ACCA Hong Kong's new chairman Kenneth Wong talks about what he hopes to achieve in his new role and encourages other members to get involved, too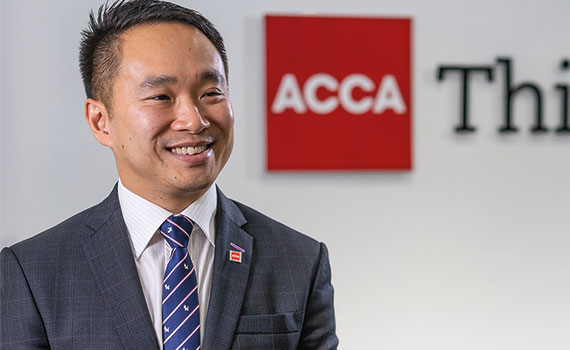 This article was first published in the October 2019 International edition of Accounting and Business magazine.
As plans and discussions around the Guangdong-Hong Kong-Macau Greater Bay Area (GBA) steps up, there is a growing focus on how Hong Kong's accountancy profession will contribute. Achieving the GBA's ambitious plans – to connect Hong Kong and Macau with nine cities in southern mainland China – will test accountants like never before.
Hong Kong will also play a key role as a finance hub in the ambitious Belt and Road initiative, strengthening trade and investment links between China and 65 nations in South-East Asia, Europe, the Gulf countries and North Africa.
To that end, Hong Kong must ensure that its accounting talent pool is ready to meet the new demands. Not only that, with so many innovations spurred on by technology, it's even more vital that accountants have the right skills to ensure that they stay ahead of the game.
For Kenneth Wong, who was recently appointed ACCA Hong Kong chairman, working with members to achieve that goal is his primary aim.

Extensive experience
In his day job as a tax partner at PwC Hong Kong, leading the Hong Kong tax controversy services group, Wong serves a wide range of clients including multinational corporations and Chinese enterprises within the consumer and industrial products, retail, technology and telecommunications industries. He has extensive experience in both local and international tax consulting and planning work, including corporate structuring, mergers and acquisitions, tax due diligence and initial public offerings. He also has significant experience in dealing with local tax dispute resolution, successfully helping many multinational and listed companies to settle cases with the Hong Kong Inland Revenue Department.
When Wong joined ACCA as a student member 20 years ago, little did he think that he would end up in his new role. 'At the time, I was just focused on how to pass the exams; I never imagined that one day, I would be the chairman,' recalls Wong. With his recent appointment, Wong says he is glad to be in a position to give back to both the organisation and community. 'After enjoying the benefits of ACCA for over 20 years, it's time for me to contribute and give back. As the chairman of such a global brand, it means a lot to me personally,' says Wong, who describes the role as a 'life achievement'.
Wong notes that giving back is a central platform in ACCA's philosophy. 'Firstly, we focus on members and help them to become successful talents. Then we encourage them to come back into the fold and contribute,' he says.
Wong says he is not unusual in wanting to do his bit; many other members who have benefited from membership are 'very happy and enthusiastic to give and help the community through the ACCA platform'.
With a number of different subcommittees focusing on a wide range of topics, members have plenty of opportunities to contribute their expertise.
Beyond ACCA, Wong has contributed to seminars held by different organisations, including the Hong Kong Institute of Certified Public Accountants, the Society of Chinese Accountants and Auditors, the Accounting Development Foundation and CCH. Across these events, he notes a high level of interaction, engagement and dialogue from ACCA members, while the organisation's regular events are always well attended.
'Whether it's our annual conference or tax conferences, we have anywhere from 400 to 700 participants every year,' he says. 'It usually reaches full house capacity quickly without much advertising and it is amazing that members are so supportive of our functions.'
Wong is also a keen advocate of ACCA's competition for students, now in its 13th year. Besides equipping participants with accounting and business knowledge, each year's competition focuses on a social element; the most recent theme is the importance of ethics for business success.

Harbour of talent
Wong believes that ACCA Hong Kong members – who make up 10% of the global membership – stand out locally thanks to their mix of personal qualities and technical knowledge. Regular sessions on technical topics are held, enabling members to upgrade their skills.
'In terms of their qualities as accountants, professionals or even as human beings, they are raised in a really good environment,' Wong says. 'They also have internal qualities like good ethics and integrity that distinguish our members. That's why there are very successful ACCA members who are leaders in their respective organisations.'
In addition, Wong believes that the linguistic abilities of ACCA Hong Kong members – whether in Cantonese, standard Chinese or English – give them a competitive edge when compared with their counterparts in other parts of the world.
On a personal level, Wong says that the prestige of the ACCA brand and qualification has been key to his successful career. 'You can go to a different country and tell people that you are an ACCA member and most likely they recognise the name,' he says. 'Not many organisations can give you this kind of international recognition.'

Courage to compete
Being part of the organisation has also pushed Wong to venture out of his comfort zone, for example by completing the 10km trail of the Standard Chartered Hong Kong Marathon earlier this year while representing ACCA. He has another 10km race planned soon – again representing ACCA.
'Taking part in different types of activities and events gives me the courage to complete something that I think I can't,' Wong says. Wong names the continued development and education afforded by ACCA as another career-defining factor.
'The world is changing very fast and so is the profession,' he says. 'ACCA is able to offer all kinds of things to our members. With the quality of our member talent pool, we are able to provide timely, updated support on all new developments, which participants can pass on,' he says. 'Basically, it's members helping other members.'
Wong is quick to shine the spotlight on other key ACCA Hong Kong staff members and give them credit for making the organisation what it is today.
'I don't want to compare us with other organisations but I think one success factor for ACCA Hong Kong is that we have a very strong, high-quality team here,' he says 'With the resources and the people here, we can do a lot for members, and they contribute a lot in return.'

David Ho and Cornelia Zou, journalists
"With the quality of our member talent pool, we are able to provide timely, updated support on all new developments"