While China and the US have been locked in an escalating trade war, Chinese foreign direct investment into Ireland has boomed this year. Will it continue?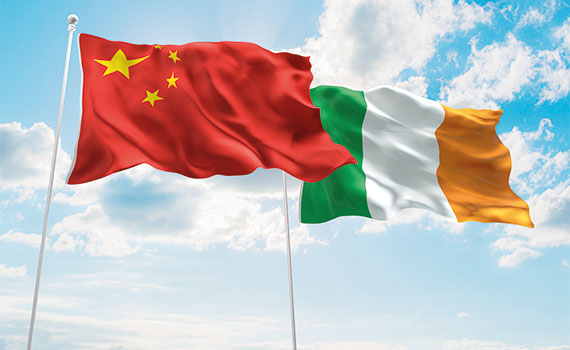 This article was first published in the November/December 2019 Ireland edition of Accounting and Business magazine.
Irish accounting executives are busy advising clients on how to benefit from a new wave of Chinese investment that is moving into Ireland. At a party staged at the Convention Centre Dublin this September to mark 40 years of diplomatic relations between the two countries, Ambassador He Xiangdong said Chinese investors 'are in a good mood' about Ireland, with Chinese foreign direct investment (FDI) into the Republic exceeding €128m from January to June, up 75% compared with the first half of last year.
This additional Chinese investment is more impressive given that global investment by Chinese companies fell 60% in the first half of this year to $20bn, according to data published by Baker McKenzie with the Rhodium Group. Investment into Europe as a whole from January to June 2019 fell by 26% to $9bn, the lowest figure since 2015.
However, over the same period Ireland's pharma and tech talent pool has lured investments from Huawei Technologies and Wuxi Pharmaceuticals. Likewise, the country's position as a food exporter has proved attractive, while aircraft leasing continues to attract Chinese FDI into Ireland, given the country's leading position as an aircraft hub.
'PwC has sent two Irish employees to China to focus on aircraft leasing and tax, and to be closer to our clients; and we've also had PwC China employees move to Ireland,' says Enwright De Sales, PwC Ireland tax partner and leader. 'We also continue to recruit Chinese employees, and Irish employees who have worked in China. The nature of our work has changed with our ability to offer these clients services beyond traditional tax, audit and transaction services, such as aviation finance advisory services.'
Over at EY Ireland's China desk, key industries targeted for Chinese FDI also include property, according to partner Marcus Purcell. He notes that Irish investors also need help in China, with outward investment often matching inward.

Trade surplus
Ireland has become one of the few EU countries to record a trade surplus with China: the value of bilateral trade in goods and services between Ireland and China amounted to €17bn last year, according to figures from the Department of Foreign Affairs, having more than doubled over the past five years.
Brexit is part of this success. It has encouraged Chinese companies to look outside the UK for access points to European markets, according to Purcell. Given Ireland's proximity to the UK, its open economy, and that post-Brexit it will be the only English-speaking country in the EU (except Malta), 'it has certainly put Ireland on the radar of Chinese companies to a greater extent'.
Chinese companies have already had an existing non-UK EU presence, 'for instance in banking', notes PwC's De Sales. 'We expect to see movement in financial services, international business services and technology sectors,' he says.
Business and investment have also been encouraged by Irish beef exports being allowed into China from 2018, the establishment of direct flights to Ireland, the Central Bank of Ireland's 2015 clearance of Irish funds to access Stock Connect, which links the Shanghai, Shenzhen and Hong Kong stock markets, and the bank's approval of the Bond Connect mutual bond market access programme, which allows international investors to access the Mainland China Interbank Bond Market (CIBM). These have all sparked 'an increased number of visiting business delegations to Ireland beyond first-tier cities [Beijing, Shanghai and Guangzhou] in China', says De Sales.
However, not all Chinese investments into Ireland are big-ticket corporate deals. Brian Geraghty, audit partner at Crowe, has advised on a visa investment programme which in the past granted residency to Chinese nationals investing €500,000 in Irish indigenous businesses. 'The figure is now raised to €1m per visa, so it's less attractive,' notes Geraghty. Crowe has also advised Chinese buyers on some smaller hotel deals.
Crowe in Dublin has been acquiring more skills and knowledge on the Chinese economy and regulations. 'We are dealing with such queries as how to establish a business in China, organising an "employer of record" for foreign workers moving to China, and structuring Chinese corporate holdings for maximum flexibility. Crowe refers groundwork on Irish investments into China to its local partner Ruihua,' says Geraghty.

Security worries
Indeed, some financing may have been deterred by increased scrutiny on China-based deals by both governments, and controls on unsound investments by the Chinese government, says Warren Keogh, director of management consulting at RSM Ireland. He notes the impact 'of proposed or passed new legislation that increases the scrutiny of foreign mergers and acquisitions for potential national security risks'.
But Keogh thinks Chinese investments in Ireland are less likely to be restricted by regulatory concerns over security, given they are largely focused on the medical, pharma, education, fintech, tourism, agriculture and environmental protection sectors. 'These pose significantly lower security risks as they do not give access to critical technologies, sensitive information or influence over critical infrastructure,' he says.
Given the high interdependency of the Irish economy with the US (Ireland's biggest individual trading partner), could the Sino-American trade war complicate matters for Irish business with China? 'Possibly at the multinational level and in areas of embargoed or levied products, but not significantly for Irish exporting businesses,' says Geraghty. However, EY's Purcell says that while the trade war has not 'specifically changed' Chinese work undertaken by Irish accountants, 'it has had an impact on the overall climate for investing, and is a consideration when assessing investment opportunities'.

Mark Godfrey, journalist
"PwC has sent two Irish employees to China to focus on aircraft leasing and tax, and we have also had PwC China employees move to Ireland"