As the pressure ramps up on businesses to disclose their climate change exposure, Alison Thomas flags a Financial Reporting Lab report that helps them do just that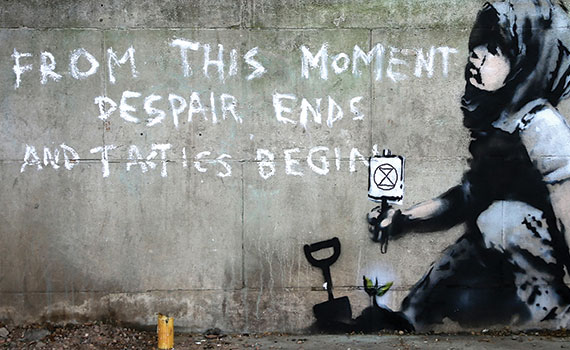 This article was first published in the January 2020 UK edition of Accounting and Business magazine.
Reporting on the impact of climate change is no walk in the park. Most accept the reality of human-made global warming. But that's where consensus ends. Drill down into the detail and you find a vast array of views on the extent of the problem, the timing of impacts and how best to respond.
Given this deep uncertainty, providing credible disclosures on a company's exposure to climate can seem overwhelmingly problematic. But, according to 36 investment organisations that contributed to the Financial Reporting Lab's Climate-related corporate reporting: where to next? report, 'too difficult' is no longer an acceptable response.
In 2016, academics from the London School of Economics estimated the risk to the value of global financial assets under a number of climate scenarios. Their conclusion: the hit would be an eye-watering US$3trn–US$24trn between now and 2100.
In 2019, the United Nations Environment Programme Finance Initiative used the Intergovernmental Panel on Climate Change projection of 2.5°C rise in global temperature above pre-industrial levels between 2030 and 2050 as a basis to assess the impact of climate change on the 'investable market universe'. It concluded that up to 13.16% of overall portfolio value is at risk – a value loss of US$10.7trn.
With potential losses of this magnitude, it's no wonder that the Task Force for Climate-related Financial Disclosures (TCFD) found in a 2019 survey of investors that 76% are already using climate-related financial disclosures in their decision-making.
It also perhaps explains why the Lab project had a record number of participants from the investment community. 'Investors were really engaged,' says Hannah Armitage, Lab project manager. 'It's not just the size of the potential financial impact on their holdings that matters to them; it's also increasingly important to their clients, who are demanding information on their portfolio's exposure to the issue. Investors were coming to this project not just as consumers of information, but also as preparers.'

Investors realistic
So what information do investors need? Those participating in this project were realistic in their demands. With so much uncertainty about the timing and impact of climate change, they recognise that this area of disclosure remains a work in progress. But they point out that you don't have to have all the answers to provide valuable information.
First, they counsel companies not to reinvent the wheel. The TCFD framework is, they argue, rapidly becoming a de facto standard in the industry. They suggest management use it to:
review how boards consider and assess climate change
discuss the risks and opportunities they face
assess the impact on both strategy and business models
disclose how the impact of climate change will be measured.
How do corporate reports today measure up against this wishlist? Given the difficulty in reporting on highly uncertain, long-range outcomes, it's perhaps no surprise that Black Sun's latest research on the FTSE 100 (The Ecosystem of Authenticity) found that 61% of companies make no mention of TCFD and only 16% mention climate change in the chair/CEO statements.
Yet if there is one overriding message in the Lab's report it is that reporting cannot afford to wait until climate impacts become more predictable; disclosures have to change, and to change soon. And that's not just because of pressure from investors.
Regulators are also focusing on this issue. For example, in a July 2019 statement the Financial Reporting Council picked out the effect of climate change on society and business as a defining issue of our time. 'The boards of UK companies... should therefore address, and where relevant report on, the effects of climate change (both direct and indirect),' it declared. 'Companies should also reflect the current or future impacts of climate change on their financial position, for example in the valuation of their assets, assumptions used in impairment testing, depreciation rates, decommissioning, restoration and other similar liabilities and financial risk disclosures.'
How, then, can companies start to meet the growing need for climate-related information?
This is where the Lab's report comes into its own. The Lab had in-depth conversations with 16 companies about their experience of trying to make sense of – and report on – their exposure to climate change. The result is a series of practical tips on governance, cross-organisation working practices and an effective language of communication.
While such pragmatic advice is invaluable to those starting this reporting journey, it's in the wealth of good reporting practice presented in Where to next? that the approaches taken by management really come to life. Over 45 pages, the report presents extracts from a wide variety of company reports, all mapped to the TCFD framework – an extraordinary resource for any practitioner in this field.

Alison Thomas is a consultant.
"Reporting cannot afford to wait until climate impacts become more predictable – disclosures have to change, and to change soon"