The new head of the IAASB, Tom Seidenstein, sees innovation, collaboration and agility as vital if the organisation is to address the disruption across the audit profession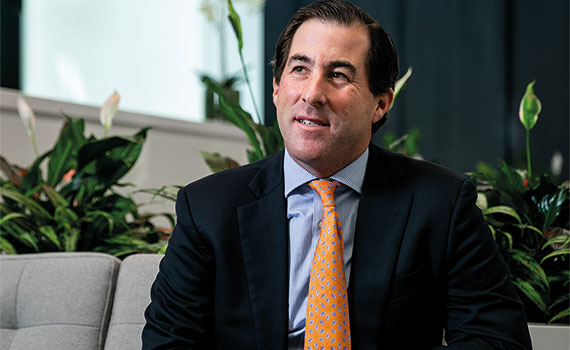 This article was first published in the January 2020 International edition of Accounting and Business magazine.
Having taken the helm of the International Auditing and Assurance Standards Board (IAASB) in July 2019, Tom Seidenstein recognises the challenges posed by the loss of trust in audit quality and the intense scrutiny the profession is experiencing. He intends to respond by embracing innovation while maintaining high-quality standard-setting.
Unlike his predecessor, Professor Arnold Schilder, Seidenstein isn't a member of the audit profession. Nevertheless, he sees strong markets, high-quality standards and a high-quality profession as directly linked. 'I believe the profession is essential to making our economies and markets work better,' he says. 'That will only occur if we are able to attract the best and brightest to the profession.
'Millennials and the next generation are attracted to fields where there's a sense of purpose and a pursuit of truth. Standard setters should enable that,' he says. 'We have to write standards that are clear, understandable and implementable. We also have to be agile enough that as new issues arise, we are able to take them onto our agenda quickly and respond rapidly.'
Seidenstein's first priority is to ensure the IAASB has a technical work programme with the 'right mix of projects'. This includes completing major revisions to standards and supporting the interpretation, application and improvement of standards. Seidenstein also wants to address emerging issues – including those 'contributing to the expectation gap today', with fraud and going concern being two hot topics. There are other emerging issues too, such as how to tackle complexity, particularly for smaller entities, and how to deal with non-financial reporting, value reporting and integrated reporting. 'We have a project on emerging forms of external reporting, but we have been concerned not to stifle innovation in that space or point our ship towards one direction when the world may want to go elsewhere,' Seidenstein says.
The use of technology is also attracting attention. Seidenstein asks: 'If technology is going to have a disruptive effect on the role of audit and accountancy, how do standard setters respond? We are dealing with technology issues in an incremental fashion right now. But we need to work with a broader set of stakeholders to understand what the world of audit and assurance could look like if things take a major step forward in the use of technology, machine learning and artificial intelligence.'
Broad interests
In helping the IAASB address such issues, Seidenstein brings his past experience at the International Financial Reporting Standards (IFRS) Foundation, which he was instrumental in establishing. 'I was there for the first 11 years of its existence,' he says. 'We saw a lot of successes in terms of global IFRS adoption, and the International Accounting Standards Board evolved as an organisation. But it was also a period where we had some fundamental challenges. There were concerns post-crisis about fair value, and about this new body and its accountability. I had a direct role in how we managed that.'
Seidenstein is also applying his experience gained at the leading provider of mortgage finance in the US, Fannie Mae, where he was in charge of strategy for seven years. 'It became clear to me what it takes to create a crisp, clear strategy,' he says. In Seidenstein's view, having a clear strategy clarifies organisational goals externally and internally, 'provides a lens' for making choices about priorities in a world of limited capacity, and supports accountability – the ability to judge success based on achievements compared to strategic goals.
Tooling up
Innovation is likely to play a part in the IAASB's future strategy. 'Can we be more agile?' Seidenstein asks. 'Can we use collaboration tools to engage a broader stakeholder group and get input not just in the exposure draft and formal consultation period, but throughout in an iterative fashion?' Seidenstein wants to remove 'barriers to entry' that could dissuade wider stakeholders, including the general public, from commenting on issues – perhaps through greater use of surveys. Seidenstein also sees value in cross-sector collaboration – for example, learning from the technology or start-up community in terms of 'how they operate and what technologies are coming on that could impact the audit profession'.
Other lessons could be learnt from the tech sector, Seidenstein believes, particularly the willingness to experiment and fail. 'We must be willing to try new approaches to solve issues of public interest, rather than seeing long, three-year projects as the only way,' he says.
He also wants to see whether the IAASB could have 'more tools in our tool chest' alongside standards, such as a new improvements process or interpretations capability. He is also interested in 'closer interaction with the official ecosystem'. For example, could the IAASB work more efficiently with the International Ethics Standards Board for Accountants or make better use of national standard setters? 'Could the combination of securities regulators and audit inspectors, accounting standard setters and audit standard setters work more tightly together – so it's not just about regular meetings, but providing a continuous feedback loop?' he asks.
There's no doubting Seidenstein's 'commitment to the mission' as chair of the IAASB and his desire to ensure that the audit and assurance profession is a valued one. He first became highly involved in accounting and auditing because of a 'sliding-doors moment' – his decision to take a course on the economics of baseball, taught by Paul Volcker, with whom he became good friends. 'It was through that relationship that I got involved with standard setting,' Seidenstein says. When Volcker, who died last month, was appointed as chair of the body that became the IFRS Foundation, he asked Seidenstein to help set it up.
The organisation changed hugely during 2001 to 2012 when Seidenstein was director of operations and then chief operating officer. 'When I started we had a staff of about 13 and a budget of £2.5m, and by the end the IFRS Foundation had a staff of 145 and a budget of £22m,' he says.
Seidenstein is still aiming high: 'We should shoot for a profession of which everyone is proud,' he says. 'We should be absolutely clear that we are going to make people proud by being 100% committed to quality and the public interest. If you are a newly qualified auditor or an auditor with 10 years' experience or at the end of your career, you should be proud of what you are doing. That's the sign of whether we have been successful.'
Sarah Perrin, journalist