Cherie Sim ACCA, group financial controller at Owndays Singapore, has built a successful career and moved up the corporate ladder while putting family first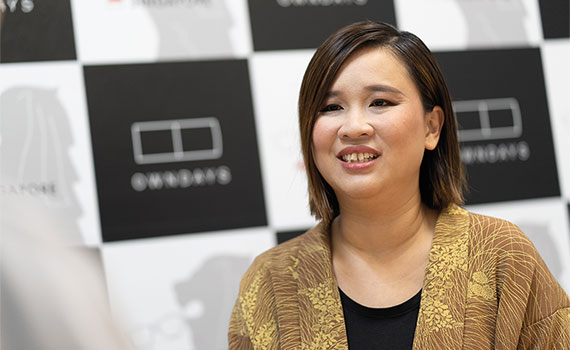 This article was first published in the February/March 2020 Singapore edition of Accounting and Business magazine.
Using numbers to look at the world has always been in Cherie Sim's blood. As an example, the group financial controller at Owndays Singapore relates an incident from her youth when, on discovering that she and a friend were heading in the wrong direction, she quickly assessed the situation and announced: 'We are only 20% up this flight of stairs; we can still turn around and go the other way.' Her friend paused for a moment before responding: 'Twenty per cent? Who talks this way?'
When it came to her decision to pursue accountancy as a career, Sim sat down to plot the quickest route towards fulfilling her objective. She researched the various pathways available and discovered that by taking a polytechnic diploma, followed by the ACCA Qualification, she would be able to enter the workforce six months before her peers who picked the junior college and university path.
'I remember that when I found out about ACCA, one of my first questions was: "What's the fastest time I can complete my ACCA Qualification?",' she recalls.
Besides being able to start working earlier, Sim also felt that the syllabus that ACCA offered was a lot more focused on real-life applications, rather than just academic understanding. In addition, Sim leveraged on ACCA's flexible learning programme to attend night classes, while taking on an accounts administration job in the day.
'I found that the most I could cope with at the beginning was four papers each semester,' she says. 'What I really like about ACCA is that it allows you to choose for yourself the number of papers that you are able to manage.'
In the run up to completing the ACCA Qualification in 2000, Sim started investigating audit opportunities in the Big Four firms. Her persistence paid off and she soon found herself working as an external auditor at Deloitte. Then, in 2003, after almost four years with the firm, Sim reached the first juncture of her professional life.
Family first
'I had to decide if chasing the partner track was the path I wanted. Around the same time, my mother had taken ill, so I decided to leave my job for a while to take care of her,' she says, adding that she was not too concerned about the possible impact on her career. 'I was quite confident that, with my qualifications and experience, it wouldn't be difficult to find a new job.'
During this period, Sim also felt that it was an opportune time to reflect on her future on a personal level, and she began planning her wedding to her long-term boyfriend.
'At Deloitte, we really didn't have too much time to date; a lot of my time was spent working,' she says. 'But now that I had some extra time, I was able to plan our wedding and honeymoon.'
Sim has continued to adapt her career around her personal life and, with the arrival of her two children, in 2009 she decided that the best way to have more quality time with her young family was to work as a freelance consultant. This eventually led to her starting her own practice offering training, consultancy and accounting work.
Keeping a foot in the industry was, says Sim, a way of maintaining her identity beyond motherhood. 'I always tell other accountant mums: "Don't let your professional training completely go to waste. You've spent so many years on it."' Staying involved does not have to be for monetary reward, either, she adds. 'You can still get involved by sharing your knowledge with the community; you can give tips to budding entrepreneurs on how to manage their accounts, or even teach financial literacy to kids at the community centre,' she says.
In 2017, after eight years doing consultancy work and with more free time as her children's needs changed, Sim was starting to get restless.
'I craved a new challenge. I knew I had more to offer than just teaching my kids primary school maths,' she says. 'Apart from my regular pool of clients, not many people knew my name.'
She applied for a role as regional finance manager at Owndays, a Japanese optical brand with more than 300 retail stores globally.
New challenge
With this new challenge, Sim had her work cut out for her. Owndays's accounts were previously outsourced and she set herself the task of restructuring the entire accounting system and processes.
'For a company of this size, I felt that we should not be relying on outsourcing,' she says. 'It takes too long to generate a report; if you aren't able to see your numbers very quickly, you won't be able to perform at your best.'
Her plate was full, implementing a new accounting system, creating group policies and manuals and recruiting new staff, as well as putting in processes and workflow for Owndays's subsidiaries.
'Previously, our subsidiaries managed their own accounts, so one of my big challenges was regaining our position as the holding company and getting all the various branches to follow the newly established group policies,' she explains.
In overcoming these challenges, Sim says that she was thankful for both her experience at Deloitte and for the example that her late father set her.
At the Big Four firm, Sim was not only drilled in the importance of a clean audit but was also exposed to automated systems early on. 'Deloitte was one of the first audit companies in Singapore to use the AS2 audit system,' Sim recalls. 'With the system, you just had to upload the client's trial balance, and the schedules and lead sheet would be generated automatically. We were able to do things quicker and more accurately, and not spend a lot of time tying up numbers.'
At the same time, Sim's father was an important role model in how to be innovative. 'If he needed something, he would always make it out of what was available,' she says. 'So even though I didn't have access to AS2 after I left Deloitte, I figured out how to use Excel to perform the same tasks.' This technique and attitude is something that Sim has been able to use to her advantage throughout the course of her consulting work, as well as at Owndays.
In order to further develop her skills and understanding, Sim also decided to pursue a master's in professional accountancy. 'I asked myself if I was crazy: I had a new job, a new change, and then to go back to studying after more than 10 years, my brain really had to be kickstarted. It was tough, yet I knew that doing my master's would better prepare me for global development work.'
For six months, Sim spent almost all of her free time studying, always focusing on the finishing line. 'It's not an endless task,' she says. 'You just have to look at where the end of the tunnel is and just grit your teeth and get on with it.'
Sim acknowledges that her husband's support during this time was vital; while she studied, he took the children for multiple trips to the Universal Studios theme park.
'After six months, my husband was so sick of the rides!' she recalls. 'But he knew how important it was for us to show our kids the need for continuous lifelong learning. By demonstrating how at our age we are still learning, they have a good example to follow.'
Building capability
While Sim has managed to overcome many challenges during her time at Owndays, she believes she is still at the beginning of her journey and she has many more plans in store for the company. One of these is to continue to build up the Singapore office's capabilities as a shared services centre for the group. To do so, she is expanding her team, both in terms of scale and ability. She is also examining the feasibility of implementing robotic process automation (RPA) into her workflow.
Recognising the impact that technology will have on her accounts team, Sim has made it a priority to expose them to new concepts, frequently sending them to relevant conferences and training courses; she is also continuing to keep herself up to date by attending workshops in areas such as data analytics.
'I am introducing my team to technology and showing them how it has the potential to disrupt the industry before we actually start on projects such as RPA,' she says. 'I need to give them mental preparation so that they can start to see how these changes can be good and beneficial, and how they should be futureproofing themselves.'
As part of the process, Sim has recruited an IT specialist to help the accounts team automate more processes as well as plan the IT roadmap for the future.
As the demands and challenges of her career grow, Sim continues to be an advocate for work-life balance, actively supporting working women with children.
'One of the advantages of Owndays is that we have flexible working times: we can start any time between 7am and 10am,' she explains. 'I start at seven and I knock off on time at 4pm, which means that I reach home about the same time as my kids.
'This is the culture that I want to set in my department: that there will be no overtime. If my staff work overtime, they'll be tired the next day. This will snowball and, in the end, they will have less work-life balance, become dissatisfied and it will ultimately result in more mistakes being made.'
Sim has also become more involved with ACCA since becoming a full member last year. 'Even though I qualified with ACCA many years ago, I never took the step to become a full member until now,' she admits.
'My first year has been a whirlwind. I've attended many workshops and conferences, and the team at ACCA has been very kind, inviting me to be part of several roundtables already. Through ACCA, I've certainly been able to build up my network and get to know a lot more people in the industry.'
Rufus Tan, journalist
"It was important for us to show our kids the need for continuous lifelong learning"