Tammam Al-Mughairi ACCA, deputy CEO of fast-growing Abu Timam Grant Thornton, outlines the Omani firm's ambitions (interviewed before Covid-19)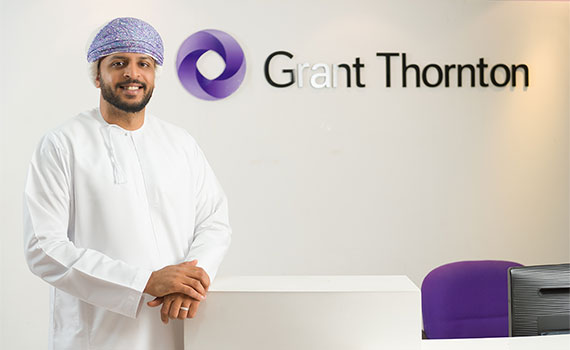 This article was first published in the May 2020 International edition of Accounting and Business magazine.
When Nasser Al-Mughairi FCCA founded his own accountancy firm in Oman in 1995, he named the firm Abu Timam – 'father of Timam'. It is just one reason why his son, Tammam Al-Mughairi ACCA, now head of advisory and deputy CEO at the firm, says that he has 'big shoes to fill'.
Al-Mughairi senior, the firm's managing partner, was a member of ACCA's Council between 2003 and 2009 and has also served as chairman of its audit committee. 'When ACCA first had a presence in Oman, it worked out of our office,' says his son. 'My father is very well known within ACCA and locally here in Oman. His big shoes are everywhere.'
Tammam originally planned a career in law but was persuaded to switch to accountancy by his father. 'He said, there's a lot more to accountancy than numbers, you know. He was passionate about it, and I was won over.' After studying at Cardiff University ('the course had decent exemptions for the ACCA Qualification, which was something we had discussed'), Tammam returned to Oman and joined PwC's audit division, where he qualified and worked in both Oman and Dubai. 'Audit is a great place to learn at a rapid pace,' he says.
Keen to expand his advisory experience, he looked at options with other firms. Abu Timam, by this time, was a member of the Grant Thornton (GT) network. 'I had an interview with a partner in the UK practice of Grant Thornton and they were willing to take me on, but felt that it would be easier if I joined the Omani firm first and then seconded to the UK afterwards. But when the secondment came about, my father asked me to stay on in Oman – and the rest is history.
'There was always a hidden understanding that he wanted me in the profession so I could come into the firm and help take it forward one day,' says Tammam, 'but a lot has changed recently.' Most significantly, the pair took the conscious decision that Abu Timam Grant Thornton should no longer be a family firm. 'We've seen other firms with family control and there is always a ceiling that's applied to non-family members. Their message is you can come in and work with us but there's a limit to how far you can take your career. We didn't want that. We wanted people to have the option of being an equity partner. So we are clear that this is no longer a family business.'
It is a decision he is more than happy with. 'I have one sister and she isn't an accountant so it's just me in the firm, and I wouldn't want to do this alone. It also makes sense financially – you can only grow so much organically.'
Since joining Abu Timam Grant Thornton in 2014, Tammam has helped lead the development of a formalised advisory practice. 'We were predominantly an audit firm, although we did provide accounting services. Today about 43% of our business is advisory, 5% to 10% is tax, and the rest is audit. In terms of staff, the advisory team is bigger than the audit team.' The firm is now the fastest growing in the sultanate, employing 78 people and with plans to recruit around 10 more by the end of the year.
'We audit around a fifth of the securities market in Oman and we have a strong reputation because we are uncompromising.
'I'd rather be difficult today and still be around 50 years from now than compromise in the short term and see it come back to bite me,' says Tammam.
Oman has strict rules around auditor independence, which has made the transition into advisory services a challenge. 'It's difficult to grow a formal advisory practice and navigate the web of potential conflicts for over 200 audit clients,' he says. 'If you are an external auditor of a company regulated by Oman's Capital Markets Authority you cannot provide non-audit services to the company or any of its affiliates. Non-audit services to listed entities are capped at 50% of the audit fee. There are also internal and external audit rotations to deal with. It can be tough at times, but it shields us from difficult situations. We have to be selective.'
In terms of advisory services, a recognition within Oman that standards governing the finance sector need to match international levels in order to attract international investors and companies is driving demand for risk and compliance services. 'Our risk practice started out as pure internal audit but it now covers a lot of anti-money laundering compliance work, corporate governance and so on,' says Tammam.
'IFRS 13, Fair Value Measurement, has also been a saving grace recently. We were able to be reactive on that because we retained a local team. We've picked up some larger clients who need valuation services on an annual basis.'
The policy of Omanisation – which sets targets for the percentage of Omanis employed in each sector (the target for the finance sector is 45%) – has also driven demand for outsourced services in the sultanate. 'Not every company has easy access to internal accountants or finance teams, so we provide outsourcing as a solution,' says Tammam.
That same policy brings its own challenges in terms of recruitment. 'We have struggled to find good people, and we have committed to Omanisation. When I joined the firm there were no other Omanis in advisory but today we're close to the quota. We can't offer salaries to compete with banks and the larger firms, but we can at least provide a learning environment.'
The firm has launched a full-time graduate ACCA programme for Omani citizens, with the promise of guaranteed employment for those who successfully complete. 'It's a win-win because a big challenge for graduates is upskilling,' says Tammam. He adds that the firm also stresses the importance of a good work-life balance: 'That's a big issue in Oman. The concept of overtime isn't ingrained. We are very much 9 to 5 people.'
The next priority is growing the tax practice. Earlier this year the minister of commerce confirmed that VAT will be introduced in Oman in 2021, although previous plans have been delayed. 'We've done a lot of prepping work for the introduction of VAT because we expected it to be introduced sooner than that,' says Tammam.
In the meantime, Abu Timam has plenty to keep it busy. 'We've seen double digit growth since joining the GT network, and that's a blessing considering the economic challenges locally and globally.'

Liz Fisher, journalist
"Recognition of the need for finance to match international standards is driving demand for risk and compliance services"