Greater Anglia FD Matt Dolphin FCCA describes the challenges of running the finances of an award-winning train operating company (interviewed before Covid-19)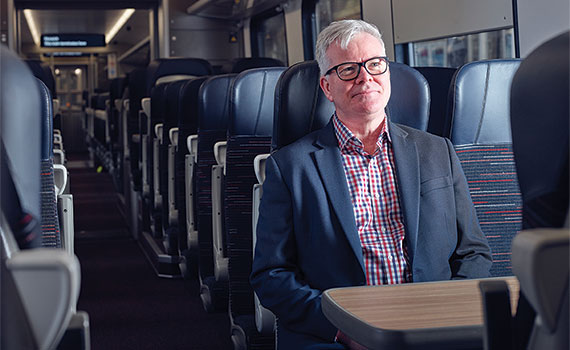 This article was first published in the May 2020 UK edition of Accounting and Business magazine.
Matt Dolphin FCCA, finance director of Greater Anglia, the trading name of train operating company (TOC) Abellio East Anglia, faces numerous challenges, from ongoing contractual challenges in the industry, to the late delivery of new trains. And this even before Covid-19 significantly affected the UK, when this interview took place.
Dolphin has wide experience of the sector. Although he has been in the hotseat at Greater Anglia for less than two years, he has spent around 20 years in transport, with senior positions in FirstGroup, Go-Ahead, British Airways and Arriva.
He joined Greater Anglia after its new franchise, which runs to 2025, had been agreed. The company provides intercity, commuter and rural services throughout Essex, Suffolk, Norfolk, Cambridgeshire and Hertfordshire, including the Stansted Express service. It operates 1,300 train services a day and is active at 133 stations. And in March it was awarded Train Operating Company of the Year.
Running a TOC is hugely challenging. 'The way the rail franchising business in this country works is bonkers,' Dolphin says. 'It's generally accepted that it's a bit of a broken process.' TOC bids are based on guesses about factors such as how passenger demand will develop in coming years. Some bid too high in their desire to win.
Dolphin accepts that it's hard for the Department for Transport (DfT) to resist such over-optimistic sums given the need to maximise taxpayers' money. 'If someone is bidding a billion pounds more than somebody else, you might be tempted,' he notes. But as the experiences of Virgin East Coast and Northern show, if companies don't generate the returns they hoped for, they may have to give the franchise back. Hence the Williams Rail Review (whose findings are awaited) to recommend the most appropriate organisational and commercial frameworks for the UK's rail system.
Greater Anglia is itself burdened by the fact that passenger numbers have not performed as expected. 'We have seen a shift with the digital economy and more people working from home,' Dolphin says. Unfortunately, the DfT imposes a Central London Employment (CLE) mechanism, based on assumed growth in passenger numbers, requiring Greater Anglia to make substantial payments.
'The CLE doesn't really work for us because we are paying a profit share that doesn't exist,' Dolphin says. 'But we are contractually obliged to pay. So we are not very happy about it and are in discussions. We are roughly an £800m business that breaks even. We might make a small profit if we weren't paying £20m a year in CLE.'
The intellectual challenges of 'big contractual areas' like the CLE and sustained poor performance (SPP) interest Dolphin. So does the political aspect of working in a national utility. 'We are in an environment that matters to people,' he says. 'We are a fundamental service that's important in the nation.'

Norwich in 90
Seeking to satisfy customer expectations, Greater Anglia is in the middle of a £1.4bn investment programme. 'We are changing every train on the network,' Dolphin says. The TOC is bringing in 58 Stadler trains capable of running on both diesel and electricity (pictured right and on the front cover). It's the first time these particular trains have been used in the UK.
'We have about half of them at the moment,' Dolphin says. 'They are running in East Anglia out of Norwich. One or two are doing the intercity route Norwich to London Liverpool Street. We now have a service called "Norwich in 90" – you can go from Norwich to London Liverpool Street in 90 minutes. I was on the first one. It was actually three minutes early.'
Greater Anglia is also waiting for 111 new trains from Bombardier. These are larger capacity commuter trains intended to provide mainline services out of London Liverpool Street to key destinations such as Norwich and Southend. The trains are a year late. This is 'immensely frustrating' for Dolphin, not least because the trains' greater capacity, speed and reliability were factored into the franchise bid.
As well as investing cash, Dolphin is also looking for cash savings. In 2019, he set himself and the organisation the challenge of reducing costs by £32m. 'We actually took out about £36m,' he says. 'We went through a cost-cutting exercise that everybody got on board with. There was some cultural challenge around that and some difficult decisions. We now have fewer people working in the organisation.' Around 100 roles were taken out from backoffice and management jobs.

Future finance teams
Dolphin's own role is a broad one. Alongside finance, his responsibilities include IT, procurement and track access. Some 50 people report to him across those areas. 'I would never class myself as a technical accountant,' he says. 'Fundamentally, I think it's all about people.' As a result, he's working with the Abellio CFO on what the wider organisation's future finance teams should look like. 'At Greater Anglia, we refocused the finance analysts who were working in the business and upgraded them to finance business partners,' Dolphin says. 'That's meant changing some people and upskilling others and shifting their focus, making sure they are working more collaborativley, are embedded in the business and have the skills to communicate and influence.'
In December 2019, Dolphin expanded his responsibilities by becoming head of group procurement for the whole of the UK Abellio Transport Group, which has five TOCs. 'Abellio in the UK is probably a £2bn turnover business,' he says. 'If it was listed on the FTSE, it would be a FTSE 250-sized company. So are we leveraging our power? We set up a group procurement team about a year ago and we're focusing this year on how to leverage that.'
If Dolphin wasn't busy enough at Greater Anglia, he has other demands on his time. He became an ACCA Council member in November 2019. He's been involved in various ACCA research projects and is a fan of the seven quotients (bit.ly/ACCA-quotients). 'They're spot on,' he says. 'We're using them as a bit of a benchmark within Abellio. If you want business partners, do they tick these boxes? Are they thinking about digital technologies? Do they have an eye to the future? Are they thinking about how to use blockchain and BI [business intelligence] or are they still stuck in yesterday's debits and credits? Do they have emotional intelligence? Can they make a connection with somebody and start to influence thinking?'
Dolphin is a mentor for ACCA members, students and participants on the Aston Business School MBA programme, from where he gained his own MBA. 'Part of it was intellectual, but it was also about building connections,' he says. 'You're on a course with people from around the world who will go on to do amazing things. That's more powerful than a module on marketing.'
Back to Dolphin's cheery persona, which perhaps stems from his strong belief that there's lots more to life than work: 'Balance is important,' he says. 'I was a special constable for eight years and I learnt to dance a few years ago, just for fun.'

Sarah Perrin, journalist
"We are in an environment that matters to people. We are a fundamental service that's important to the nation"