Robert Butler FCCA, CFO of the Alzheimer's Society, describes how finance is a major challenge in ensuring adequate support for those with dementia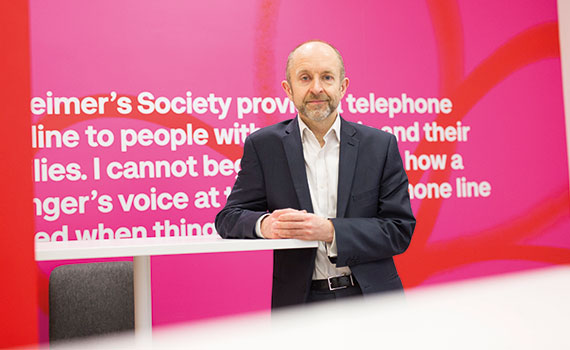 This article was first published in the May 2020 UK edition of Accounting and Business magazine.
Alzheimer's Society is the UK's leading dementia charity. It provides essential services to those with the disease and their families. For Robert Butler FCCA, that was a good reason to join as its CFO. 'I spent most of my career in the commercial sector,' he explains. 'I came late to the not-for-profit sector, four years ago, and I joined Save the Children for a couple of years. It was quite a move to go from one sector to the other.'
Having a brother with Down's syndrome, Butler spent a lot of time with him and mental health charities over the years. 'As I started to research finance roles, I was thinking, what do I want to do next? I decided to use my skills to help make life better for people. There is more of a sense of fulfilment than in generating profits for shareholders.'
Alzheimer's Society is a complex organisation. It has an income of £112m a year, of which about £26m comes from contracts with local authorities, the NHS and others, for delivering services as part of the social care system. Last year, £73m came from fundraising by individuals and communities, with the balance of income coming from trusts and corporate partners.
'There are three main things we do,' explains Butler. 'We deliver a suite of support services to people affected by dementia and their carers. There are 850,000 people with dementia in the UK and many more affected by it. It's growing all the time.'
'We have face-to-face dementia advisers offering post-diagnostic support, helping people understand how they get access to appropriate services from their local community and local councils – not only around health, but also with regard to housing and financial support. And we offer crucial emotional support; some people affected by dementia, but also their carers, go through significant bouts of depression.'
The charity also provides what it calls a 'side-by-side service'. Its aim is to help people with dementia remain active in their community.
'Because people with dementia can become withdrawn, we partner them with a volunteer who spends time with them periodically over a series of weeks. They might take them to the zoo, a cafe, or the cinema, to help them find confidence and feel that they are still embraced and included in the community.' This interview took place before Covid-19 spread across the UK. These sorts of acitivity are now of course suspended. But Butler updated AB, saying the organisation is finding ways to provide support remotely and safely. People can use the charity's Dementia Talking Point online community to post questions, and there is the Dementia Connect support line, which operates seven days a week.

Financial challenge
Finance is a major challenge for the charity – both in terms of maximising its own income and in seeking to arrange adequate support for people with dementia and those around them. It campaigns by lobbying government, policymakers and the public. It argues that councils are under-funded for social care provision, and that dementia is treated unfavourably by the NHS.
'Dementia is caused by diseases of the brain, and yet patients with brain cancer get more support than those with Alzheimer's,' says Butler. 'One of the misconceptions about dementia is that it as an inevitable part of the ageing process. But we work with people in their early 40s who have a diagnosis of early onset Alzheimer's – it's a condition that can be genetic.'
An ageing demographic is adding pressure, as is the problem of local authorities struggling to balance their budgets. Butler estimates that councils will face a funding gap of about £5bn by the end of the decade.
The society has a Fix Dementia Care campaign, whose chief objective is to solve the social care crisis. 'There isn't an easy solution, but it's a big issue that governments have not solved and not prioritised,' says Butler. 'There's been no major reform in the last 20 years.'
There are other ways, too, that the society tries to make life better for people with dementia. 'It's important we find a cure,' continues Butler, 'but it might take some time. We need to make sure that we're researching technology and other means of helping people as much as we can.
'Some people who have lost the ability to communicate verbally are able to communicate very effectively through their iPads.' Technology can monitor people's movements, sleep patterns, behaviour, blood pressure and other vital signs, raising the alert when someone needs support.
But at the back of all the initiatives and programmes is the need for the society to operate as an efficient organisation, which is where Butler's skills come in.
'We've restructured our finance team to build a more effective business-partnering ethos and approach,' he says. 'I've been promoting our efficiency and effectiveness agenda. How do we deliver greater value for money? How do we spend the money?'
This process is helped by engagement from staff and supporters. Annual Memory Walks, in which people with dementia are encouraged to take part with friends and relatives, are an important source of income, which also improves social involvement.
Internally, the charity asks staff for suggestions on how to reduce costs and improve effectiveness. 'We will pick a topic and encourage people to talk to each other about this,' says Butler. 'It becomes more than just a one-way process from the CFO down.'

Paul Gosling, journalist
"I wanted to use my skills to help make life better for people. There is more of a sense of fulfilment than in generating profits for shareholders"