It is all about rolling up your sleeves and getting things done, according to Yvonne Arunga, regional operations director at Save the Children International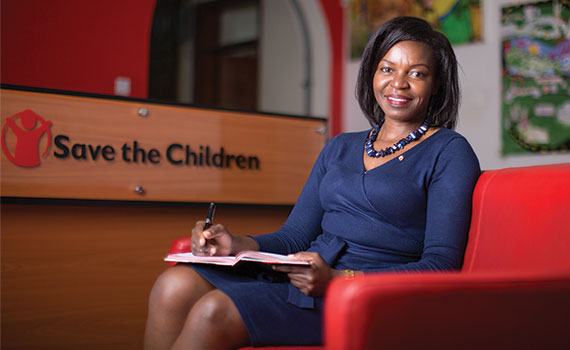 This article was first published in the May 2020 Africa edition of Accounting and Business magazine.
Yvonne Arunga has her hands full at the best of times, but with the arrival of Covid-19 her job could be about to become much more demanding. As regional operations director for East and Southern Africa at Save the Children International, she is responsible for the quality and efficient delivery of the charity's programmes through 12 offices in 14 countries.
Save the Children, now celebrating 100 years of activity, has three core strands to its work: children's education, health and protection. 'We want to push education and especially early education,' Arunga says. 'We want children to survive – not to die of preventable illnesses. And we want to protect children from abuse and conflict. Our ambitions are very big and no one organisation can succeed alone. So we link up with governments and other organisations in this sector in the countries in which we work.'
Based in Kenya, Arunga holds operations teams on the ground across her region accountable for implementing programmes effectively, and spending donor funds appropriately. 'My key goals are to drive through the implementation of our projects, ensuring they are implemented to high standards and within the timeframes we have set for ourselves,' Arunga says. 'We are constantly also looking at best practice and driving through continuous improvements – so, whatever we are doing, we ask how we can do it better and faster.'
As well as running long-term projects, operations teams deliver humanitarian responses to disasters and emergencies. Arunga is focused on ensuring Save the Children is 'the partner of choice' for governments and other donors, but also on looking for ways to be 'faster and more nimble'. Rapid response to any disaster is essential, so managing an effective supply chain is an extremely important part of Arunga's remit. 'A lot of the success of our work will be driven by how fast we are running our supply chains,' she says. 'So when food disaster hits, it's about how quickly we can get food in there to distribute to our beneficiaries. It's also about getting value for money – because donors care that we use their money properly.'
Operations teams also work in collaboration with specialists looking at programme development and quality improvement. 'We – operations – are implementing on the ground,' Arunga says. 'So we work in collaboration with our specialists to drive knowledge within the organisation about what works and what doesn't, and how we can strengthen our interventions going forward. We also transfer learnings from one geographical area to another, even across continents. If a particular approach to pneumonia prevention, for example, has worked well in one part of the world, how do we translate it in an African context?'

Challenging role
The role of a regional programme operations director is inevitably challenging. 'Context really affects our work, involving things we cannot control,' Arunga says, speaking in mid-March. 'Just this morning we were in a meeting talking about how we must change our programmes in the light of Covid-19. We have programmes where we do things with communities and children, but some governments are already saying access to certain places should be restricted or people are to be encouraged to work from home as much as possible. So context really influences our work.'
Another contextual challenge relates to the sometimes dangerous environments in which Save the Children operates. 'Often we are trying to implement programmes in places where the security situation is very volatile,' Arunga says. 'You might be in Cabo Delgado in Mozambique, or in Northern Kenya, or Somalia. These are very insecure places to be sometimes. That can be a constraint. We have highly committed and dedicated staff, but getting them to agree to relocate to some of these remote, insecure areas can be a challenge.'
Before stepping into her regional role in January this year, Arunga was the country director for Zimbabwe. She sees attractions in both country and regional positions. 'As country director, you are right there where things happen and can more closely influence things. In my current role at regional office level, I have oversight over several countries – I have a bird's eye view of the issues. Some are interconnected, some are not. When we are talking about food insecurity in Southern Africa, there's a lot that is common between Malawi, Zambia, Zimbabwe and Mozambique. Then there's a regional locust problem in East Africa.'
She likens her regional role to the filling in a sandwich, layered between Save the Children's London office and the country offices. 'At a regional level, you have a better view of the discussions that are happening globally and you are able to inform them more easily than you can at country level, where your head is in the weeds,' she says.

Getting the job done
Arunga made her move into operations because she was interested in 'the programming side of things'. She explains: 'Operations are the people who roll up their sleeves and get it done. Finance plays a supporting role and so does HR. I have massive respect for our colleagues in support functions, but I wanted to be on the front line – to be much more involved in the programmes. So if we have a major push for early childhood learning in a country, for example, what kinds of programmes will we be running?'
Making the move from a finance role to operations wasn't easy. 'I had to be very intentional about it,' Arunga says. 'I felt I had been doing finance for a long time and I wanted to contribute more, and to be in a high leadership position within Save the Children. I thought strategically about which stream would get me there.' She also demonstrated curiosity about other functions, doing 'stints in managing change and other interesting roles', showing she had the ability to succeed in an operational capacity.
Although Arunga has moved out of finance, her ACCA training and previous finance experience is still highly helpful. 'I have a better appreciation of budgeting and resource management,' she says. 'I can quickly understand how well we are delivering within our resource envelope. How better can we budget our proposals? How better can we cost recover so that we are a leaner, more efficient organisation? How can we plan our procurement and everything that falls under the delivery supply chain in a way that's efficient and as cost-effective as possible? It's been valuable to have a finance background.'
Arunga chose the ACCA Qualification because of its global strength. 'I wanted an accountancy qualification that was portable,' she says. Although she already had a degree in economics and philosophy from the University of Nairobi, Arunga was attracted by ACCA's partnership with Oxford Brookes University. Her studies gained her a first-class MSc in finance in 2003, and she also won the Matthew Sykes Award for the best research project – a financial analysis of Standard Chartered Bank Kenya. 'I was quite chuffed,' she says. She sat her final ACCA exam in 2004.
Financial analysis is one of Arunga's strengths, she says. If there had been more opportunities in such roles in Kenya at the start of her career, it's possible she would have gone into investment banking. 'Somehow I ended up in the development sector, and I have never regretted that,' she says. 'Some of the problems we are trying to solve are not easy. But it's very fulfilling to come to work and be part of a network that is pushing for children's rights.'
Interview conducted prior to Covid-19 pandemic.

Sarah Perrin, journalist
"A key concern is getting value for money – because donors care that we use their money properly"