Personalisation is difficult to do well on small budgets, and can be poorly received. Better to be hyper-relevant than personal in your firm's marketing, writes Jason Ball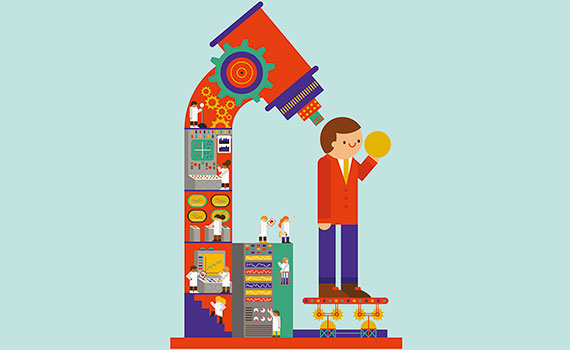 This article was first published in the May 2020 UK edition of Accounting and Business magazine.
Targeting people with products and services that data tells us they want makes perfect sense. Depending on their persuasions, it means they'll be seeing content and ads about bicycles and Lycra, rather than dog collars and pet grooming.
But professional accountants are not working in the consumer market. And the trouble with personalisation in our sector is that it is really difficult to do it successfully without fantastic data. Sadly, the data we have to hand is often average at best.
If we were to really personalise our content at scale – beyond the 'Hi [First name], when [Company name] is looking for a new accountancy firm' approach – we would need to understand precisely who our buyer is and exactly what they are looking for. This kind of personalisation also requires producing a ton of content for every stage of the buying process and for every single one of the many people (CEO, CFO, HR and more) involved in any purchase. This is expensive to produce, a nightmare to manage and all for marginal returns at best.
Most firms would struggle to even manage a fraction of this – and they are struggling. While 70% of B2B marketing leaders think it's important for their prospects to receive personalised content, more than half believe their efforts to personalise have been ineffective, according to a survey by Heinz Marketing and Uberflip.

Specific job to be done
So what's the solution? First we must recognise that our clients don't buy accountancy services because of who they are or whatever 'persona' we try to fit them into. They buy our services because they have a specific job to be done. When we understand this, we can see why personalisation isn't actually that important.
This marketing theory of 'jobs to be done' is attributed to Harvard Business School professor Clayton Christensen, who wrote in the Harvard Business Review: 'When we buy a product, we essentially "hire" it to help us do a job. If it does the job well, the next time we're confronted with the same job, we tend to hire that product again.'
Importantly for accountancy firms, this is about helping clients make progress in the areas that matter most to their businesses. If your firm can help them do this significantly better than their current approach, they will hire you. If not, all the personalisation in the world isn't going to help.
In this, it is largely irrelevant whether you can group them into an arbitrary set of shared attributes because these attributes do not drive action. They will not hire your firm because they are a mid-sized engineering business based in the West Midlands. Nor will they hire you because they have a time-poor CFO who likes occasional trips to the opera. These are not motivating. Getting the most important things on their to-do list done, however, is.
It's up to you to find out what job your client needs to be done and how your firm can be hired to help. To do this, talk to as many existing clients, past clients and almost-clients as you possibly can.
This sounds very simple, but data suggests a clear disconnect between what clients are looking for and what the firm thinks it needs to be offering. A 2018 survey of 1,000 small businesses by SourceMedia Research and Accounting Today found their biggest financial challenges to be audits and debt. But many of those same small businesses didn't realise that accountancy firms could provide help with cashflow troubles and profitability issues.
If by talking to clients you find out that they really need to free up capital to fuel their business growth, you can start creating content that clarifies how tax optimisation plans can achieve exactly this. And if they need help reducing their debt burden, you can create case-study driven content on how your firm has a track record in helping businesses to increase profitability.

Psychopathic focus
Ultimately, instead of (hyper)personalisation, firms should focus on being (hyper) relevant. Get under the skin of your clients, find out what will drive the most interest at a broad market level, and then create a limited amount of high-value content that's psychopathically focused on the real-world pain points that challenge your clients' progress.
The one exception to this approach is account-based marketing (ABM). This focuses on a limited number of very high-value accounts. ABM can and should be highly personalised to specific, researched pain points and requires a joined-up approach between marketing and business development.
For everyone else, show how your firm can help them make progress with the jobs that matter most and how your approach is distinctive.

Jason Ball is founder of B2B marketing agency Considered Content.

"Data suggests a clear disconnect between what clients are looking for and what the firm thinks it needs to be offering"