Five CFOs from top companies in mainland China speak with Ji Zhou about their experiences of financial leadership during Covid-19 and their advice to others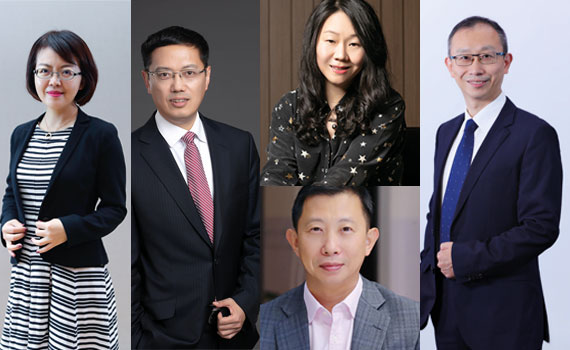 This article was first published in the June 2020 China edition of Accounting and Business magazine.
The Covid-19 pandemic is having an extraordinary impact on the global economy, public health and social governance. In the face of this sudden crisis, how can finance stabilise business operations?
The CFO Leadership Research Centre, established by ACCA and the Shanghai National Accounting Institute, organised a 'CFOs in Action' interview with five recipients of the Best CFO Leadership Award in 2018 and 2019. They shared their ideas on coping with the current situation and plans for the future.

Q. What have been the biggest challenges during the pandemic?
Li Bing The impact on the aviation industry became prominent in February. Domestic air traffic for the month dropped by 80% and revenue fell by 63%. Passenger traffic for China's three major airlines plunged 80% and Juneyao Airlines saw a 75% drop. All airlines suffered huge losses in the first quarter. The challenge stems mainly from the large number of refunds that have occurred since the Spring Festival, resulting in cashflow pressure. We refunded more than 600,000 tickets, totalling close to RMB800m, around RMB130m of which was the cancellation charge we waived for our customers. Few companies put too much cash on their accounts; our cash balance is not too low, and we also transferred RMB200m from overseas. Thanks to effective control measures taken in China, the worst of the outbreak is over and the domestic aviation market occupancy rate has recovered by 60% to 70%. The current situation is stable.
Tu Jun The epidemic delivered a heavy blow to the hotel and accommodation industry, and is a severe test for corporate management. The hotel and aviation industries are the biggest victims. According to economic data released by the National Bureau of Statistics, the revenue of the hotel and catering industries decreased by 35% in Q1. Our group's 470 hotels in mainland China experienced a significant drop in occupancy rate, and 150 of them were temporarily closed. In the Spring Festival holidays of previous years, the occupancy rate was 60%-80%. During the worst days of the outbreak, some hotels had fewer than 10 guests. The impact on the company's cashflow is huge, but with the outbreak now well under containment in China, business travel is recovering slowly and the hotel industry is prepared to face the long-term challenges
Yang Chuan Enterprises in my industry are not only facing the pandemic, but also the global economic recession and the transformation of the auto industry. This means it will take longer for this industry to recover. Under the influence of this triple-crisis, how can enterprises survive and develop? I believe talent and strategic transformation are two critical factors among others.
In the first quarter, my company performed better than the industry average by minimising expenses and sticking to the basics; we 'hibernated' through the winter, trying to stand still and save energy. We are predicting a double-digit decline for this year and the downward trend may continue. From the perspective of the supply chain, the automotive industry chain is lagging behind. Currently, China's supply chain is doing okay, but there are break-points in other countries. Small and medium-sized suppliers will face risks in cashflow. My company keeps an eye on that through our radar indicators. If there is a problem for our suppliers, we will provide support or prepare for an acquisition as soon as possible.
Li Xiangrong The pandemic is a life-or-death challenge for the hotel industry, and the difficulty lies in revenue and safety. Before the outbreak was contained in China, the whole population was at a standstill. The occupancy rate of hotels was only 10% at the end of January and the beginning of February. Revenue fell steeply, but the company's operating costs, especially rent and labour, remained unchanged. Ensuring the safety of employees and customers is the top priority of enterprises.
Guan Xiaohui My group started fighting the epidemic before the Chinese New Year. Our hospitals in Wuhan were listed as designated rescue hospitals. We deployed personnel from our member hospitals to the frontline in Hubei; we wasted no time in arranging funds and raw materials for the production of negative pressure ambulances, ventilators and so on. Ensuring the production and supply of anti-epidemic materials are major tasks and challenges for us. We also purchased materials from overseas to assist our companies in Hubei and other places. In the first quarter, we promoted the quick development of the Covid-19 diagnostic reagents and the global cooperation in mRNA vaccines. The main challenge since March has been the resumption of full production; we still face many problems in the supply chain and logistics that need to be resolved.
Q. What measures have you taken?
LB Maintaining a healthy cashflow is our top priority. Juneyao Airlines' asset-liability ratio was a little over 60% at the end of 2019. We maintain good cooperation with banks and financial institutions, and have over RMB6bn in unused credit lines. Healthy asset-liability ratio and sufficient credit lines helped us a lot in quickly responding to cashflow pressure.
As of March, we had RMB1.6bn on our account and borrowed RMB2.5bn with a discount. By nature, airline companies are more concerned with long-term business risks with a strong sense of risk prevention, and medium- and long-term financial strategic planning. Thanks to our cash stocks and financing channels, we are in a good position to deal with the crisis.
Also, the company enjoyed some financial support policies from the state, such as the subsidy for international flights suspension, reductions in airport charges and the Civil Aviation Development Fund.
We also honoured our corporate social responsibility. We organised many flights for anti-epidemic material transportation and flew home many Chinese tourists stranded abroad. At present, the control of the global pandemic is still a challenge, and international flights are facing greater risks. Social interaction is a basic need for mankind, and airplanes are still the best means of transportation for long-distance travel. I believe there will be a U-shaped recovery for the aviation industry.
TJ CFOs can help a company survive the harsh winter and develop in the warm spring. We launched an emergency plan on 22 January and held team meetings every two days to respond to the outbreak and make a difference in three ways.
First, we actively responded to the outbreak while adhering to the company's vision and values: the safety and health of our employees, passengers and property owners is essential to our company's survival and development. We paid great attention to the procurement of anti-epidemic materials such as disinfectants, and supported the government by providing isolation hotels across the country. For example, we provided hotels near hospitals in Wuhan to accommodate medical staff. We also reduced charges and extended the billing periods to support the industry during the crisis.
Secondly, we improved cash management by cutting costs and finding new sources of income. We took effective measures to control and cut costs with temporary salary cuts for the management and grassroots employees. We actively communicated with our suppliers to extend payment periods and strictly controlled capital expenditures.
Thirdly, we took responsibility and stabilised employment. Our global CEO promised that 'we will keep people employed as many as possible, for as long as possible.' So far, there have been no layoffs and no major salary cuts.
YC Cashflow is the first priority. We stopped all investments and mergers and acquisitions, reviewed the terms for suppliers one by one, and suspended our recruitment plan. The crisis has provided companies with the opportunity to 'take a bath' and chop off otherwise bad portfolios. We should use the crisis to reorganise strategies and clarify the best product mix.
In order to prosper, analyse the most profitable and best product lines, so as to make more implicit investments, such as process optimisation and talent pipeline. In a crisis, some high-quality people may begin to flow on the market; this is an opportunity to target talent.
LX The first priority for a CFO is to ensure the safety of corporate funds and operations. We contacted the bank on the second day of the Chinese New Year to apply for an increase in credit line, and managed to get preferential loan interest rates and deferred repayment of existing loans and interests to gain more space and time for the safe operation of the enterprise.
At the end of January, a number of working groups were established, with four of them related to finance. The rent reduction team promoted rent reduction and exemption for more than 800 stores, carried out communication and negotiation training, and tried hard to obtain the understanding and support of our property owners. The policy implementation team collected various tax reduction and fee reduction policies for taxation, social security, trade unions and training funds, and arranged for finance, personnel departments and the outlets to apply and implement anything that can bring benefits to the enterprise.
Through the industry association, we made recommendations on specific anti-epidemic support programmes to the Ministry of Finance, some of which have been adopted and implemented.
We also have strict payment control, with the CFO signature required for any expenditure above RMB50,000. We achieved substantial reduction in non-core expenditures, and conducted reasonable planning of capital flow.
There has been a balance between humanistic care and financial consideration. No layoffs and salary cuts for us. We made a reasonable work schedule for our 100,000 employees based on our actual needs, actively carried out cross-industry cooperation in February and March, and cooperated with online and offline retail service businesses such as Freshippo and Yonghui Superstore, so as to help reduce labour costs.
The sense of urgency also stimulated our spirit to fight, and our problem-solving efficiency was greatly improved.
We have vigorously supported franchisees by collaborating with banks to launch customised loans, and reducing or waiving some franchise management fees. For example, we waived all the franchisee management fees in Hubei, and provided timely communication and guidance.
GX Our finance department worked closely with business departments to allocate funds to ensure the supply of materials, actively participating in everything from raw material preparation to production. Fosun purchased a large amount of materials for fighting the pandemic globally, and the finance team efficiently cooperated in crossborder payment and customs clearance issues. For our global cooperation in the mRNA vaccine, the financial team was deeply involved in the negotiations, due diligence and fundraising.
Since about a quarter of Fosun's income comes from overseas, we also need to follow the global development of the pandemic, make real-time predictions and analysis, and support departments to make decisions based on different scenarios.
Q. What are the decision-making challenges for CFOs in the face of uncertainty?
LB There is an old saying in China: 'Preparedness ensures success and unpreparedness spells failure'. Financial strategy is very important. Juneyao Airlines is supported by a good financial strategic model. Our company's cash balance is the highest in the airline industry, and we also have good access to finance, which makes us well prepared to deal with cashflow pressure.
I don't think CFOs need to maintain a high profile when the company is under normal operation. But when the company has a problem, their importance will be highlighted; it is their responsibility to ensure normal business operations during a crisis. When the virus broke out, the company told our employees that there would be no layoffs or salary cuts to boost the confidence of our employees and investors. Thanks to our robust financial position, payments to suppliers at home or abroad remained stable.
TJ CFOs need to be calm. Finance to a company is like an anchor is to a ship, and financial strength and healthiness is of the utmost importance. First comes the safety of cashflow: how do you communicate and solve problems? Secondly, you must maintain a healthy financial structure, protect the company against difficulties through corporate financing and provide support for future development. Thirdly, find new sources of income and control costs while facilitating business recovery.
CFOs must also be agile – making the right judgments and decisions based on different situations at different time points – and optimistic, facing up to reality with a positive attitude and giving your team confidence and support.
YC When everything goes well with the company, sales and marketing dominate the stage. But this crisis has brought CFOs opportunities to drive management changes. CFOs should be more committed to finding certainties in uncertainties. Don't expect to win every battle, but make sure you never lose a major one.
Less is more. CFOs should set the right direction through determining the core competitiveness of the company. They are also responsible for timing the restructuring of financial statements, as well as obtaining and analysing the data capital and intellectual capital that reflect the value of the enterprise.
LX Guard the bottom line: ensure security and confidence, as the security of cashflow depends on regular financial planning.
Maintain overall control and take swift action: finance to a company is like a central control room to a ship. Maintain clear overall planning and real-time monitoring with timely feedback and adjustment of various indicators during the whole journey.
Clearly communicate company strategies, challenges, measures taken and plans made to everyone to boost solidarity and morale. At the moment of crisis, everyone's goal is to survive and the resistance to change will be greatly reduced, which is a good time to promote and implement change. During a crisis, it's better to cancel or abort those projects that are difficult to evaluate. All departments should be more practical and realistic, and be more active in making improvements to enable healthy development.
GX Financial leadership includes inclusiveness and execution capabilities, as well as taking responsibility. In global cooperation projects, financial leadership ensures that the team and overall goals are achieved, project risks and benefits are reasonably assessed and transactions facilitated.

Q. What words of encouragement would you offer CFOs?
LB Opportunity lies in every crisis; it is also an important moment to adjust our corporate and financial strategy and learn from it. It is important for CFOs to remain clear-minded and seek maximum support from the board of directors.
TJ The harsh winter is upon us. We will survive it and prosper in the coming spring.
YC CFOs need the courage to change and the mindset of the gardener. Change refers to the development of new tactics and business models. We should not be afraid of failure; instead, we should prepare for new successes. By the mindset of the gardener I mean CFOs should pay attention to the growth and development of their people.
LX Strive for the best and prepare for the worst. CFOs should improve their capabilities in fast response, organisation, communication and action-taking to provide the management with stronger support for decision-making.

Ji Zhou is executive director of the CFO Leadership Research Centre, Shanghai National Accounting Institute. The views expressed are the personal views of the interviewees and do not represent the position of SNAI and ACCA.
"Be more committed to finding certainties in uncertainties. Don't expect to win every battle but make sure you never lose a major one"