While the impact of Covid-19 has been devastating for SMEs, with the right support they will overcome the challenges this crisis has thrown up, says Eilis Quinlan FCCA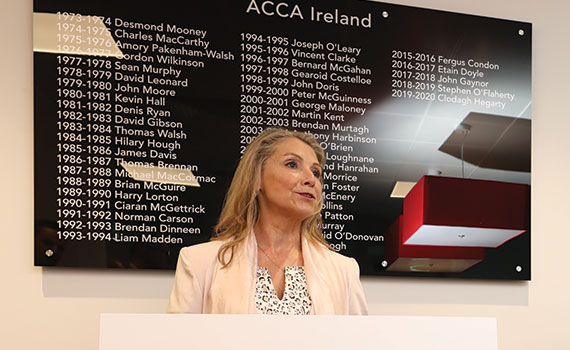 This article was first published in the June 2020 Ireland edition of Accounting and Business magazine.
As the country plots a way through the catastrophe of Covid-19, there will be much hopeful talk of rebirth across the economy, with the role of accountant set for its own renewal as trusted adviser, particularly to SMEs.
If a sense of renaissance is in the air, there can be few in the profession better suited to the description of renaissance figure than Eilis Quinlan FCCA. As principal of Quinlan & Co, the firm she founded in 1992, Quinlan's passion for the SME sector has gained her a national profile, and the respect of her industry peers and the wider business community.
In May last year, she was named ACCA Accountant of the Year, an award that recognised her outstanding commitment to client service and her dedication to ACCA values, going on to be named as one of six regional advocacy award winners, representing Europe and Americas.
It was only one of two awards she received that month: Quinlan & Co was also named best small practice of the year at the Irish Accountancy Awards. Add to this Quinlan's achievements beyond business and a distinctly rounded individual comes into view.
In 2009, she was appointed chair of ISME, the Irish Small and Medium Enterprise association, where she proved to be a vocal champion of the sector at a critical time.
A passionate equestrian, she's also a former member of the Irish international amateur showjumping team, winning the national championships in 2001, while in her youth, she played cello with both the National Youth Orchestra of Ireland and the RTÉ Chamber Orchestra. Quinlan is also, for good measure, a member of Mensa, and serves, among other roles, as non-executive director of Ballet Ireland and Life Credit Union.
When AB Ireland last interviewed Quinlan, the unique role SMEs play in the economy and local communities was also to the fore, as recession battered business confidence and shuttered high streets. She reflects how the intervening decade brought an impressive, if mixed, recovery. 'Things had certainly improved and we were back to nearly full employment. The main streets of Ireland's country towns never really recovered from the planning mistakes of the Celtic Tiger era but there were a lot of success stories and some great innovation on display. SMEs tend to want to grow while staying local and supporting their community. When the going gets tough they really do get going. They can adapt very easily and are always exciting to work with.'
While SMEs have largely entered this new crisis without the unsustainable debt or property exposure of 12 years ago, Quinlan says the situation can still only be described as devastating. 'The economic crash wasn't long enough ago for people to have forgotten, and while interest rates are lower and there may be a range of supports, there will be a reticence among many SMEs to borrow while the future is uncertain.'
That said, she sees reason for optimism in the government's early response to the pandemic. 'A decade ago, I don't think anyone really considered the plight of SMEs – the attention was on banks and bondholders. This time, there's a sense that we're all in this together. The government may not be able to do everything, but they are doing a lot.'
Indeed, she professes herself to be 'astonished at how quickly and comprehensively the government has moved. It is keeping money in people's pockets as well as keeping company and staff connected, which is really important.'
The wage subsidy has been particularly significant in this regard, as 'it keeps continuity with teams and various levels of teams'. Quinlan is also largely pleased with the approach of Revenue to date but believes that all parts of government will need to be bold and decisive if business is to return to some normality. Against that, she believes one major issue experienced by SMEs in the last recession is already making an unwelcome reappearance. 'Banks could be doing more. It's so frustrating to see that, once again, they won't take even the slightest risk and I think it's going to quickly become a problem. Some really good schemes have been put together and the government can't do a whole lot more. The key issue is there aren't enough banks and there isn't enough competition.'

Supporting decisions
As to the direct experience of her clients, Quinlan says the first few weeks were a huge shock for many. 'Once the panic subsides, it's about sitting down and calmly focusing on the future and asking what is the one thing we can do today to make tomorrow easier?' It's a message that's ultimately about clarity and priorities and Quinlan says it can be 'easier for someone on the outside to see a way through compared to someone looking at their life's work'. What's also clear to her is that the role of accountant as financial adviser is about to shift gears in the coming months and years. 'Technology can do the number crunching and you need up-to-date financial information to make strategic decisions, but that's the base point. It's from here that the accountant comes into their own, curating the vision and supporting the decision-making.'
That decision-making isn't always easy. 'You don't want to see any business fail and when you can see a way forward you provide every support you can. But there's also a certain time when you have to say to someone that they can't fund this from savings any longer. It can be heartbreaking. However, you'd do it for best friend, so you've got to do it for your client too.'

Remote working
Quinlan's own interest in IT, and the cloud in particular, was reflected in the company's development of an app for its clients three years ago, and contributed to making the move to full-time remote working during the crisis relatively seamless. 'We have a centrally located digital diary and, most days, someone goes in for a few hours to log the post. We are lucky in that we didn't have to scramble around and get set up. We hit the ground running.' She is proud of her team, who, she says, have punched well above their weight over the past few months in spite of all the challenges of working from home with young families, or having family members in precarious employment situations.
When Quinlan was presented with the ACCA Accountant of the Year award she reflected on her own precarious situation when she was following her personal path to ACCA membership back in the 1980s. 'I was married at 19, and as a young mother, every other path was closed to me. In the situation I was in, studying for ACCA was the only way I could get a qualification. Einstein said, "It's a miracle that curiosity survived formal education," but at ACCA I received the very best formal education and training, which laid the groundwork for my career.'
Years later, that sense of appreciation has not diminished. 'When you look at the paper in the final exam there's simply no comparison in how it prepares you for the variety you'll encounter as an accountant,' she says. It's a challenge set to be put freshly to the test for all accountants in the year ahead, and one Quinlan is eminently prepared for.
'For me, there's nothing like going into work on a Monday morning with vague plans of how the week will take shape and finding, by 11am, that's all gone out the window. Yes, it can be frustrating, but it's also exciting and particularly satisfying when you see a business succeed and know that you've been a small part of it.'

Donal Nugent, journalist

"It's from here that the accountant comes into their own, curating the vision and supporting the decision-making"