Professor Philomena Leung FCCA has carved out a career as a highly regarded educator who puts the development of the profession at the heart of what she does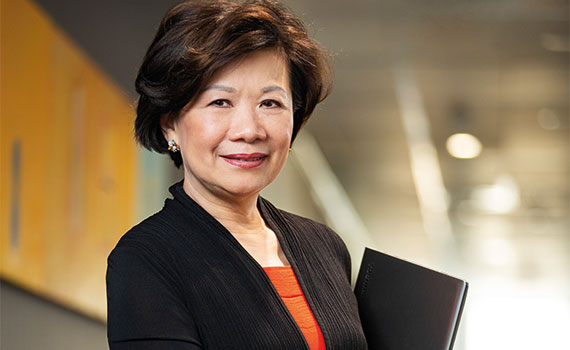 This article was first published in the June 2020 International edition of Accounting and Business magazine.
The renowned academic, Professor Philomena Leung, Macquarie University's international associate dean, fizzes with energy and brims with excitement when she talks about accounting and its potential to change the world.
Through her decades in the profession, Leung has accumulated a wealth of professional rigour and leadership skills, which have taken her from her native Hong Kong to Scotland and on to her adopted home of Australia. Along the way, she has educated generations of accountants and helped reshape the profession.
'Being a leader is not just about people following you,' she observes. 'It's about giving your people the opportunity to work things out and grow as a result. Set someone a challenge, by all means, but give them the space to solve it for themselves.'
In order to understand where Leung's enduring drive and determination come from, we have to go right back to her formative years. In 1969, a teenage Leung followed her father's advice and embarked upon a professional diploma in accounting at Hong Kong Polytechnic University (then known as Hong Kong Polytechnic). 'When I enrolled, I had no idea what accounting was,' she admits.
'But I soon learned a great deal and enjoyed my three years of study. Then I joined a large multinational accounting firm where I trained as an auditor while studying for the ACCA Qualification.'
Leung describes her early career – as a junior working in practice – as a familiar tale of hard work and a steep learning curve that gave her a grounding in audit. 'I had a heavy workload, but it was a really fun time and I was seen as a rising star,' she recalls. However, her four-year stint at the firm ended in ignominy when she made an innocent mistake: returning files along with a short note to a client on official stationery and breaking a protocol in the process. Yet her untimely departure from the firm led to a rethink on her future coupled with a serendipitous offer.
Academic move
Disillusioned, Leung might have left the accounting profession entirely were it not for a job offer from her alma mater. 'Fortunately, Hong Kong Polytechnic invited me to begin teaching as an assistant lecturer in accounting and I leapt at the chance,' she says. 'But still, the experience at the accounting firm left an indelible mark on me. There were lots of questions in my mind. I've had an interest in ethical issues within accounting ever since.'
In fact, Leung is now a globally respected expert in professional ethics with a formidable portfolio of work in the field. This includes her seminal 1998 PhD thesis, Ethics in the Australian Accountancy Profession – An Empirical Analysis of Accountants' Perceptions, as well as leading a team of researchers to develop a flexible framework of ethics education for the International Federation of Accountants in 2005.
Leung thrived in the progressive learning environment of Hong Kong Polytechnic and spent 14 happy years there, eventually rising to associate head (research) and principal lecturer in the department of accountancy. The institution also helped facilitate her master of accountancy studies at the University of Glasgow in Scotland, where she came top in her year.
At Hong Kong Polytechnic, Leung forged a productive professional relationship with Professor Barry Cooper FCCA, the head of the accounting schools, who went on to become ACCA President in 2012–13. 'Barry came to Hong Kong from Australia in 1987 and quickly recognised the high quality of the ACCA Qualification,' recalls Leung.
Cooper also noted the tremendous economic potential of mainland China and a real appetite for accounting, and in 1988, he and Leung joined an ACCA delegation to mainland China, headed by then ACCA chief executive Anthea Rose, arriving in Beijing just two weeks after the Chinese Institute of Certified Public Accountants was established. Those first meetings marked the beginning of a partnership that has thrived and enabled both bodies to grow the profession and develop the pipeline of finance talent in mainland China. Leung recalls that the University of International Business and Economics in Beijing was among the first of many partner universities to offer the ACCA training programme. 'Their associate head at the time, David Wu, was the first ACCA-qualified person in China,' she adds.
Since those early forays into mainland China, ACCA has continued to partner with government bodies, employers and training centres, celebrating 30 years of cooperation in 2018. 'That early vision made an impact,' says Leung.

Fresh challenge
By the late 1980s, Leung and her husband, Samson Leung FCCA, had two children and were seeking a fresh challenge overseas. Cooper introduced Leung to Professor Brian Wise, the founding dean of the College of Business at Victoria University in Melbourne.
'Brian was ahead of his time,' says Leung. 'He told us: "We are exporting education and we need people who understand Asia. Would you like to help us?" Professionally it was a step down for me – I went from associate head of research at Hong Kong Poly to become senior lecturer at Victoria University – and my salary halved. But I never regretted the move.'
While emigrating required some cultural and lifestyle adjustments for Leung and her family, her academic career flourished. Spells at Melbourne's Deakin University and RMIT University followed, during which Leung became synonymous with her research and achievements in accounting ethics, governance and innovative projects.
At the same time, she continued to make a contribution to the evolution and growth of ACCA. 'I was honoured to be the inaugural chair of ACCA Australia and New Zealand, bringing members from both countries closer together,' she explains. 'And I've done quite a lot of work negotiating for recognition of the ACCA brand among the major companies and accounting firms in Australia.'

Cyber challenge
In 2010, Leung moved to Sydney to join Macquarie University. During her tenure she has focused on accounting, governance, innovative projects and international engagement – and her enthusiasm remains undimmed. 'I'm still learning new things and I'm still excited about what the accounting world of tomorrow will look like,' she says.
In recent years, cybersecurity has become an area of interest. 'Around the world, I saw how technology is changing the face of accounting and finance,' she says. 'I could see that the next big thing would be cybersecurity because, as everything moves into the cloud, accountants are effectively information engineers. We're the ones doing the analytics, and ascertaining, verifying and relying on the integrity of the data.'
Inspired by her observations, Leung was instrumental in the establishment of a multidisciplinary cybersecurity hub at Macquarie University, securing A$10m in investment from telco Optus Business and the university. She is also currently working with corporates and cybersecurity start-ups on a broad range of innovative initiatives, as well as travelling the world to establish bilateral relationships, most recently in India.
'In this fast-moving age, it's very important for accountants to remain open-minded and accept that they will need to learn new things throughout their careers. I never dreamt I'd become so immersed in cybersecurity but I learned about it and here I am.'
Despite now being at the age when many of her peers might choose a quiet life of retirement, Leung's enthusiasm for the profession and the impact of technology on business and sustainability shows no sign of waning, and her academic pursuits have been recognised. In 2019, Leung was awarded the Bob McDonald Award by the Institute of Internal Auditors Australia – the highest honour that the organisation can confer on a member – for the contribution she has made to the profession.
'I'm very pleased to be the first Chinese Australian to be given this award since its inception in 2006,' she says. 'It's great being able to contribute to such a premier profession that aligns accounting, auditing, risks and governance – one that's at the forefront of innovation and specialisation in assurance and controls in a fast-changing business environment.'
She has also been invited by ACCA's strategic alliance partner, CA ANZ, to become a member of its education board to provide academic oversight and leadership for its higher education programme.
Leung has some advice for young accountants starting out. 'Think big,' she urges. 'Accounting is not just about financials – it's about accountability. It's not just about business – it's about society and how we value things. That's really exciting because it means your ACCA Qualification can take you in a thousand different directions.'
This interview took place before the Covid-19 pandemic.

Andy McLean, journalist

"As everything moves into the cloud, accountants are effectively information engineers"