Receipt Bank, in association with ACCA, looks at how digital technology and automation enable professional accountants to give their clients real-time advice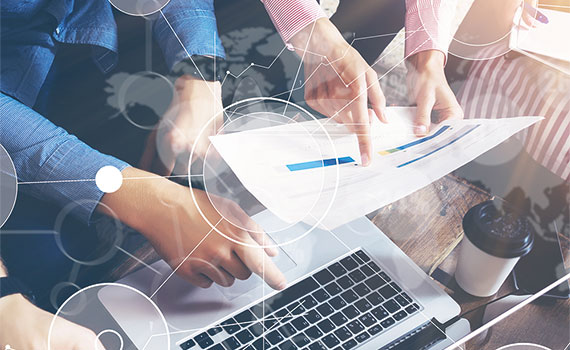 This article was first published in the June 2020 UK edition of Accounting and Business magazine.
Faced with spending hours inputting expenses and invoice details into a spreadsheet or giving yourself and your clients time back to get on with business, the choice is clear. And it's even easier in today's digitally connected world.
There can be little doubt that digital technology and automation are enabling professional accountants to develop new skills and provide real value-adding services for their clients. However, the basics still need to be carried out – clients need to be able to track their income and expenditure to know exactly how their businesses are performing. But in today's fast-paced business world, a monthly report that goes rapidly out of date, or worse, an annual account prepared many months after the business' year end, is simply not good enough.
Fortunately, the technology now exists that allows clients to upload invoices and expenses into systems that are able to talk seamlessly with other accounting software, so that accountancy firms are able to give their clients accurate information in real time. The ability to scan a receipt or upload an invoice into a system that then automatically processes the data contained in those documents allows businesses to keep on top of their administrative tasks, rather than succumb to the temptation to leave the admin until there is an absolute requirement for it to be addressed, such as after a year end or when tax forms need to be completed.
That alone would be a real advantage for any business, but this is just the start of the improvements that businesses will see. Once the data has been uploaded into the system, it is then possible for this to be processed in many different ways to provide a clear picture of the business' health. And it would be a real advantage to professional accountants, as they would no longer need to process the data, replacing time spent on data entry with more time spent on providing valuable insights for their clients.
'Real-time information is key to the whole process,' says Melanie Dowie, a network development consultant at technology specialist Receipt Bank. 'Clients can work in a reactive way and leave everything to the end of the year. But that doesn't help the business to grow. They need to know if they are on track to make money and to turn a profit. Automated processes will allow clients to have control and to see where they can make a difference on a real-time basis.'

Freeing up time
Dowie, who spent 25 years as a bookkeeper in practice and business before joining Receipt Bank, speaks from experience: 'Automating these processes changed my life. I would spend hours inputting the data, time that could have been better spent. Accountants have the experience to interpret the numbers and can help turn a business around, working collaboratively with the business to understand what it needs or wants.'
Digital book-keeping tools such as Receipt Bank can feed into other accounting software packages to help create a clear picture of the business, but it is the data entry that is of greatest importance. Making it simple and convenient to upload information is paramount – using a mobile phone app to scan and upload receipts and invoices is possibly the most convenient and efficient method, and will allow businesses to capture the data 'on the go'. Documents can also be uploaded via email to a unique address, which can be given to suppliers as well. Dropbox and PayPal can be integrated into the system as well. Other features include Receipt BankON, which allows real-time chat with clients and enables advice to be provided instantly on submissions and any outstanding paperwork and reports.
But a business also needs to keep on top of expenses such as utilities, so a system that can connect with such suppliers and 'fetch' utility bills will reduce the time spent on data entry even further. And if the business still receives hard copy bank statements, these can be converted into PDF files, which again can be uploaded and processed. A digital system can also be set up to categorise individual items automatically, again saving valuable time. This can also be invaluable when allocating expenditure for tax purposes.

Identifying inconsistencies
Using the open banking feed system, it is also now possible to reconcile the income and expenditure with bank accounts, again in real time. This will help identify inconsistencies and unexplained items long before they become a real issue.
'Anyone who has paperwork can benefit from these systems,' says Dowie, 'and everything can be exported as well, so it can be fed into additional systems.'
Receipt Bank estimates that, on average, accountants can spend more than nine hours per client every month on data inputting and chasing clients for the data in the first place. 'We can act as the bridge between business and accountancy professionals,' says Stephen Brown, Receipt Bank's global head of marketing. 'This then allows the accountants to act as business partners and focus on advice, so that they can get the best out of the data.'
'It comes down to having a real understanding of the information and moving the process from hard work to smart work,' Brown says. He argues that automating processes will shift the relationship between accountants and businesses from one where they are discussing historic figures to one where there is a real-time understanding of the figures. 'This means you can have conversations when they count,' he says. It is a simple choice.

Philip Smith, journalist
"It comes down to having a real understanding of the information and moving the process from hard work to smart work"