Two ACCA members working for the NHS describe how they responded to the Covid-19 pandemic, and the lessons their experiences have taught them for the future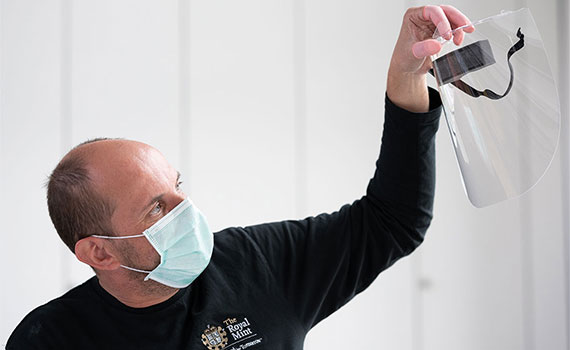 This article was first published in the July/August 2020 UK edition of Accounting and Business magazine.
The National Health Service underwent a major transformation as it responded to the Covid-19 pandemic. Yet the government has been widely criticised for the high infection and death rates compared with other countries and for not being better prepared.
What, then, can the NHS learn as it prepares for perhaps second and third waves of the disease and the possibility of other pandemics?
Matt Gaunt FCCA, director of finance at Lincolnshire Clinical Commissioning Group, refers to the NHS's ability to reform itself over a couple of months as 'remarkable'. He explains: 'Some people would look at this and say direction set centrally by NHS England has been what's delivered the change. But in many respects, it's the appetite and the ambition of leaders in local positions that actually effected the change.'
Strong local management and digital technologies have been vital. 'Our leadership group has been meeting daily, albeit by video link or conference call,' says Gaunt. 'That has been really tight, and the vast majority of the response at county level has been managed by the local resilience forum.'
In England, public health lies within local government – unlike in the UK's three devolved nations – and councils have complained that the pandemic has placed them in severe financial difficulty. But Gaunt says that lack of finance has not impinged on the effectiveness of the public health function. A priority for him now is to secure additional resources, not just to cover the additional costs of dealing with the pandemic, but also to meet the suppressed demand from patients who did not present to hospital earlier in the crisis. 'In our recovery and restoration activity, we're prioritising the resources that are required,' he says.
A&E is one of those services where demand fell significantly. Reducing unnecessary visits to A&E is a long-standing NHS priority, seeking to redirect some attendance to more appropriate services, such as GPs. The hope is that demand management can be improved to reduce attendance by 10% to 20% compared with pre-crisis levels. 'If there's an opportunity to reset expectations, we want to start with that one,' says Gaunt. 'We're pretty confident that we can match our service recovery to meet the demands of patients as they start behaving more like they were three or four months ago. However, after such a long period of restrictions in planned care and surgery, hospital based services won't recover all that ground quickly, and hospital waiting times will increase.'
Experience in the other three UK nations is significantly different. While NHS England has had difficulty sourcing personal protective equipment (PPE), Tim Kelland FCCA, assistant director of finance at the Finance Delivery Unit, says Wales has been able to maintain an appreciable level of PPE supply in line with the scientific guidance to its frontline workers throughout the pandemic.
Kelland argues that the more centralised procurement process in Wales has served them well. 'Having a national shared service procurement function has allowed us to get to the position that we have reached today, responding positively to the challenge of distributing high volumes of PPE to the whole health and social care system in NHS Wales,' he says.
'While we did not have a complete picture of demand at the outset of the pandemic, we have been able to get a pipeline of stock in for all the PPE areas in time to meet the demands. Another thing I'm really proud of is fat that we've been able to issue as mutual aid PPE products to England, Northern Ireland and Scotland because we had a good stock and a good pipeline of providers. We have put a comprehensive system in place very quickly for PPE products, providing a clear assessment of volumes issued, stocks, forward orders and prospective demand.'
A particular challenge with PPE has been that there is no 'one size fits all'. At the outset it was not foreseen, for example, that prison officers would require PPE. 'The scientific advice changes and different types of PPE are needed,' explains Kelland. 'We had to have a model that was sensitive to that.' For instance, he says: 'At the start of the pandemic, we were told we could use a particular type of protective eyewear. Three weeks into the pandemic, the Health and Safety Executive said you can no longer use those.' Instead they required visors, of which there was a global shortage. The solution was to develop new partnerships with local businesses, including Royal Mint, to manufacture PPE.
Previously the NHS in Wales would not have had a role in providing PPE to care homes. It had to find answers to important unknowns quickly. 'How many social care workers are there? How many care homes? How many employees work in the care home? How many GPs within GP practices? How many specialist nurses? This intelligence wasn't available and we've had to go and get it,' explains Kelland. Now that data has been obtained, it becomes a model that needs to be refreshed, as the demand continually changes.'
But, he adds: 'One of the huge benefits in Wales is that we've got integrated healthcare services. We've only got seven health boards covering all of Wales. Those health boards are responsible for primary care, community care, mental health services and the acute side. We have therefore seen real benefits of having a national shared services procurement function supporting seven health boards across the range of health services, which have meant we are able to manage, communicate and distribute effectively and quickly.'

Paul Gosling, journalist
"Strong local management and digital technologies have been vital in getting through the crisis"