The first global Big Four chairman to be based in Asia, KPMG's Michael Andrew explains why it's important to be close to the world's fastest-growing economies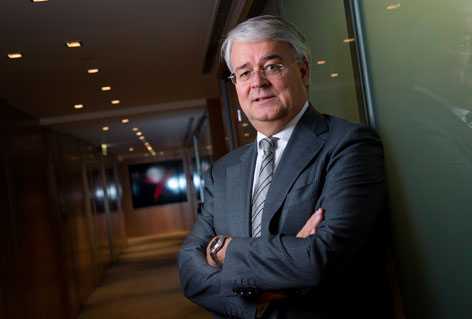 This article was first published in the September 2013 International edition of Accounting and Business magazine.
Before he took over as global chairman of KPMG in 2011, Michael Andrew had to give a presentation to the global board and outline his priorities and vision for the firm. He recalls: 'I talked a lot about emerging markets and the importance of Asia and I said to them that at that point in time the office of the chairman should, in my view, be located in Hong Kong. They accepted it.' Not long after, he became the first global chairman of a Big Four accountancy firm to be based in Asia.
Born in 1956 in the Australian coastal city of Maryborough, 260km north of Brisbane, Andrew has an easy and forthright manner. He speaks a lot about the benefits of being based in Hong Kong, close to the fastest-growing economies in the world. The choice of location is fitting, given the emphasis KPMG is putting on Asia.

In November 2012, for example, it was the first of the Big Four accountancy firms to open an office in Myanmar. In May, it expanded its practice in Mongolia. In 2010, it created the KPMG Global China practice. Even if profit growth last year was smaller in Asia Pacific than in the more developed markets of the Americas, Andrew believes much of the firm's future is inexorably tied to emerging markets.

'The whole reason I am in the job is emerging markets and high-growth markets. This is where our future is and getting it right in these markets today is critical to our success in 10 or 20 years' time,' he says.
The 30-year journey

In some ways, his three-decade career at KPMG has been driving him to this point. A gregarious Australian tax specialist who studied commerce and law at Melbourne University – he's a qualified barrister and solicitor – he had to learn accounting as a sideline during his first job. He guided KPMG through much of its development in Eastern Europe and was the author of the firm's first Asian strategy in 1993. 'That is part of the reason why I located to Hong Kong – it is far more central to emerging markets than New York or London,' he says.

In the two years since he took over the firm's chairmanship, he has spent 75 per cent of his time travelling and visited 73 countries. 'You just can't imagine how a boy from Melbourne can be in meetings with Vladimir Putin and Angela Merkel and be learning so much and, at the same time, in a very Australian way, talk very specifically about what needs to happen,' he says.

'The majority of my time I spend in China, India, Asia. After that, it would be Russia. After that, it would be Africa. And after that, it would be South America. We are running pretty well in New York and London. I would not be adding a whole lot of value there.'

Setting up the chairmanship of the firm in Asia has set KPMG apart from the other Big Four but the decision has come at some cost, not least of which is distance from the regulators in New York and London. On a more positive note, setting up his office in Hong Kong has allowed Andrew to take a hands-on approach to his job.

'You have to lead from the front, particularly in emerging markets,' he says. 'You have to understand the pulse of the country. You have to be there. You have to build local relationships. It's amazing. I go to an emerging market and I can meet anyone, whether it is the prime minister down. They all want to meet.'

The result of this is good first-hand information that helps both the network and clients and makes the global chairman more relevant to the growth of the business.

All the travelling and relationship building in emerging and established markets allows Andrew to be deeply involved in issues of global policy-making.

He has also been heavily involved in not-for-profit projects. In Australia, for example, he was a member of the Business Council of Australia, chairman of the Dowd Foundation, chairman of the Business Working with Education Foundation, a council member of the Australia Business Arts Foundation, and a committee member for the Olivia Newton John Cancer Centre Appeal and the Prostate Cancer Foundation. 'Part of my community involvement has become sort of public policy and trying to paint some options for governments for the future,' he says.
Giving back

He says community involvement is important for businesses in the years since the global financial crisis and that KPMG encourages a high level of involvement among staff. When he was chairman of KPMG Australia, for example, he expected every partner to have a not-for-profit role. He believes such roles give those in business a broader perspective as well as making a positive contribution and generating trust.

'One of the things to come out of the global financial crisis is that the level of trust in business has fallen to an all-time low,' he says. 'The only way to address this is to demonstrate creative engagement going forward.'

Andrew is gregarious, a fast-talking man with a solid grasp of the issues and a liking for cricket – he's also a golfer and an avid horse breeder. He believes there are three priorities for the firm and the profession going forward.

One is to shift the focus from traditional markets to emerging markets.

'The main thing is the thought process around the high-growth markets – recognising that the future is shifting to these emerging and developing countries and focusing the right investment and strategy around these markets.'

A second priority is to go back and 'think about the lessons from the global financial crisis and how we should be responding as a profession and as an organisation'.

A third is to streamline the firm's offerings and focus on a core set of services that meet clients' needs and are delivered with consistency and quality around the world.

'A mistake all of the accountancy firms made in the 1990s was to build these huge consulting businesses that had 68 different products,' he says.

Andrew's position allows him to introduce these priorities into KPMG while giving him a front-row seat for the ongoing efforts to introduce financial reforms in emerging and developed markets. And from KPMG's office in the Central district of Hong Kong, he is particularly close to the reforms under way in mainland China.

He believes there is a 'genuine restructuring' going on there and that the country's new leadership is taking the most advantage of a short window of opportunity to deal with legacy issues.

'That is going to require some tough medicine on some of those issues and, to their great credit, they are getting on and doing it,' he says.

In part, he sees his job as providing insight for colleagues in New York, London or Frankfurt who may not have a solid grasp on what is happening in China or other distant markets. And he believes the path forward is one of geographic diversity.

'Most global companies will want equity in the US, equity in Asia and equity in Europe. You want a good balance of shareholders,' he says.

And there are a number of markets that present great possibilities, particularly outside of the BRICS (Brazil, Russia, India, China, South Africa), which are countries dealing with a host of individual issues and slowing growth.
Mexico top of the new wave

'Among the countries that have really impressed me, Mexico stands out,' he says. He believes it will grow rapidly over the next decade and has also been impressed by Nigeria, another country where he has seen work ethic and entrepreneurial spirit. Indonesia too has huge potential, particularly given its Association of Southeast Asian Nations (ASEAN) role, although he adds it needs strong leadership.

'If I'm investing anywhere else in the world right now, I'm investing in Mexico and South-East Asia. They are the two that stand out to me.'

"You have to understand the pulse of the country. You have to be there. You have to build local relationships."