For Steven Phan, EY's Asia-Pacific area managing partner, the key to delivering exceptional service is to ensure that everyone is committed to the firm's vision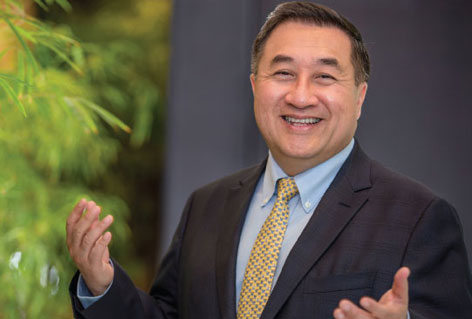 This article was first published in the September 2014 Singapore edition of Accounting and Business magazine.

Steven Phan keeps a punishing schedule. Since his appointment as EY's Asia-Pacific area managing partner in July 2013, almost every hour of his working life has been spent travelling from country to country and office to office, reaching out to the 30,000 EY partners and staff around the Asia-Pacific region. When he is not on the move, he is participating in meetings, taking conference calls, preparing webcasts for those partners he is unable to meet in person, giving interviews or responding – personally – to the multitude of internal and external queries he receives on a daily basis.
The purpose of this constant effort: communicating EY's new global strategy to all the personnel under his charge. Phan listens to their feedback, spends time understanding the markets they operate in, and works out how best to implement the EY strategy for their particular location. It is one of the most important aspects of his role.
'The buck stops here in terms of implementing our global strategy,' he says. 'I have the responsibility to make sure that everything works as it should.'
EY's new strategy and purpose of 'Building a better working world' was launched in July 2013. The new strategy focuses on client service and teamwork at both the local and global levels, with the ultimate aim of making EY the leading global professional services organisation by 2020.
And central to achieving this ambitious goal, says Phan, is convincing people to buy into the strategy.
'The key thing in achieving truly seamless service is the mindset of our people,' he explains. 'From the most junior to the most senior, our people must be committed to the strategy before we can truly deliver exceptional client service. In the past, mindsets could be very country-centric, with people working in silos. Now we have to think global, act local, and for that to happen, the mindset of all our people has to focus on teamwork, harnessing the strength and knowledge of our integrated global network to serve our clients.'
As area managing partner, Phan's position can best be described as CEO for the entire Asia-Pacific region. He is responsible for every aspect of EY across Asia Pacific, from driving the organisation's vision to planning strategic market development and even managing the environment in each EY office.
And he is part of the EY global executive, with the ability to influence global strategies and help drive the organisation's development at the highest levels.
'To me, it is a heavy responsibility, knowing that the discussions and decisions I participate in impact thousands of people,' he says. 'But it's also a very empowering view, to be able to make such a difference.'
The view from this position is very different from his previous role as chief operating officer where his focus was mainly internal and operational. Now, he has a far wider brief, and his focus now has a greater external emphasis: on clients and markets. One of his priorities is to analyse EY's position in the Asia-Pacific markets and identify the key strategic investments the firm needs to make to advance itself – a task that Phan takes in his stride.

Big picture
'As COO, my responsibilities were partly market driven, and so I had some familiarity with the market when I came into this role,' he explains. 'I think that is part of being a good COO – you need to understand your business imperatives. You don't work in a vacuum; you must have an eye for operational processes, but you must also have an eye for the big picture and be able to link the two together.'
Another key element is to set the tone from the top. The ideal of providing exceptional client service, he says, can only be actualised if the people in the organisation have the passion for doing so. 'We can have the best branding in the world, but if we don't have the passion, the brand means nothing.'
From experience, Phan says, passion is not an easy thing to find or maintain; it must be encouraged, demonstrated and incentivised. Phan's ongoing effort to reach out to EY partners in the Asia-Pacific region is one way of encouraging them. He is also looking into ways of linking performance indicators, recognition and rewards to the client service and teamwork mindset.
'It's not about products; it's about people,' he says. 'Our day-to-day asset is our people. It is important to get the best people, to retain the best people, and to develop them to their utmost potential, because we are only as good as our people.'
Although it has been many years since Phan was in the position of the people he now goes to such pains to engage and motivate, he has vivid memories of his start in the profession. At 21, after moving to London to study accounting because it seemed interesting, he found it more challenging than he had expected. 'I was just a small-town boy from Ipoh,' Phan says. 'Studying abroad was a huge thing back then. It gave me freedom to do as I please, but it also taught me discipline and responsibilities, and the need to balance my studies and social life. But I really liked what I was doing, and that kept me going.'
He joined Arthur Andersen as an assistant in 1981, with the ambition of becoming a full partner, which he fulfilled in 1992. This, he says, is still one of the most cherished memories of his career. 'It was a great moment for me,' he recalls. 'Becoming a partner was something I had really wanted for a long time.'
In 2002 he moved to EY as an assurance and advisory partner. Six years later, he was appointed country managing partner for Singapore and, at the same time, managing partner for the ASEAN sub-area. The next two appointments followed in quick succession: COO for Asia Pacific in 2011, and, just two years later, area managing partner.
'I did not aspire to be area managing partner,' Phan says simply of his newest role. 'It was honestly a very humbling moment as the first Asia-Pacific member of EY to become area managing partner, to know that the global executive and the thousands of members put their trust in me.
And I think my track record speaks for itself. In all my roles, I have executed my responsibilities to the best of my ability.'
The demanding nature of his work does not faze him, any more than it did earlier in his career. 'There are always challenges, or you are not addressing the right issue. In every day, nothing goes 100% smoothly. There are many things you cannot control in the external environment. But the attitude you bring to a challenge is everything. If you believe that the glass is half full, then with every challenge comes an opportunity,' he says.

Leave a legacy
Phan's ambition is now to leave a legacy – to have the EY brand grow even stronger during his term of service. 'I have enjoyed a good life here,' he says. 'I would like to give something back in return. I hope that when I retire, I will also leave a legacy that makes EY a better place.'
That legacy can, he says, be built through engaging and motivating people.
There is, he points out, no way to tell whether someone is giving their best unless you take the trouble to engage them. 'I am a very firm believer that if you want to do your best, ultimately it must come from within,' he says.
'You can only have motivation if you like what you are doing and who you are working with, if your environment is stimulating and engaging you.'
Phan is motivated by winning, he adds – by the feeling of satisfaction that comes from having his team's hard work pay off, or from having a client compliment them on a job well done. He takes pains to emphasise that winning is a team thing: 'You can do well by being very individualistic, by not sharing clients, by protecting your own interests. But that is not the way to win. Real winners team up and share. It is not just about delivering responsibilities but how you go about it. Embrace the global mindset, help others to come up and build for others, not just for yourself. Do the best you can with the values you think are right.'
Ultimately, what gives him greatest satisfaction is the people around him.
'What I like most is watching people enter the profession, helping them grow and develop, seeing them succeed in their career. That is the joy in the profession. Even after they leave, some still remain connected with us. It's inspirational.'
He is particularly passionate about causes that improve society, such as diversity. In 2010, BoardAgender, the outreach arm of the Singapore Council of Women's Organisations' Women's Register initiative, named him one of its 100 Champions for driving initiatives that recognise women's contribution in EY and enable them to advance to senior leadership roles. Even now, alongside the demands of his current role, diversity and inclusiveness within EY continues to be one of his pet projects, not only for the sake of the organisation, but because it helps people and the community at large.
'We have a responsibility to our people, to the communities we live in, to continue to be a good corporate citizen and really develop people to their greatest potential,' he says. 'Of course, the reality is that many we recruit will leave, but we will have touched them with our system and values, and made a difference in their lives.'

"You can do well by being very individualistic, but that is not the way to win. Real winners team up and share."