As Crowe Horwath (HK) goes from strength to strength in both Hong Kong and China, chairman and CEO Charles Chan discusses the increasingly tough regulatory backdrop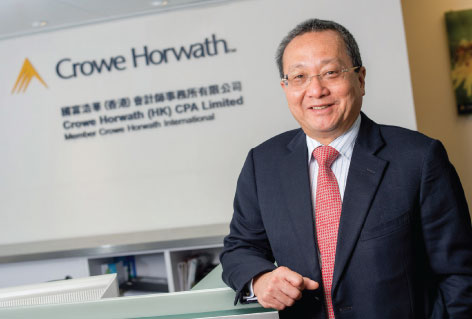 Over the years, Crowe Horwath (HK) CPA has built a solid reputation as the specialist to go to for tax matters related to China. Led by Charles Chan, who has nearly 35 years' experience in managing professional accounting practice, the firm ranks among the top 10 second-tier firms in Hong Kong. Now, a major push towards business diversification is expected to help the firm achieve long-term sustainable business growth, says Charles Chan, chairman and CEO of Crowe Horwath (HK).
A full-service member of professional services provider Crowe Horwath International, the firm offers a comprehensive range of services to clients in the Greater China region. 'These are handled separately by related companies under the supervision of the firm's partners,' explains Chan, who founded CCIF in 1980, before it merged with PCP to become Crowe Horwath (HK) in 2009.
A key service is offered by the China tax team, helping clients enhance their compliance with the evolving regulatory environment in the country. 'Our clients include overseas investors which aim to enter China and those already operating in the country,' he notes. 'China has implemented a lot of changes in its regulations related to overseas enterprises, which include the transfer pricing requirements and the Circular 698 equity transfer requirement. In addition, we specialise in tax due diligence related to mergers and acquisitions. This involves a tremendous amount of highly complex work.'
A key contributor to Crowe Horwath's knowledge of mainland China is its strategic alliance with Ruihua CPA (previously Crowe Horwath China). Ruihua ranks third among all accountancy firms and top among domestic firms in mainland China. 'We leverage our partnership and connections in China to assist our clients in solving local business issues, such as liaising with local tax bureaus and performing due diligence to facilitate clients' merger and acquisition activities. Our strong professional network enables us to provide efficient services to clients both within and outside China,' Chan says.
Crowe Horwath (HK) also uses its connections to help H-share companies to list in Hong Kong; CCIF started helping mainland Chinese companies to leverage the vibrant Hong Kong capital markets back in the 1980s. 'Our advantages over domestic firms in mainland China include the language proficiency of our staff and their in-depth professional knowledge and expertise of overseas markets, as well as regulations in other jurisdictions,' Chan says, adding that the firm also signs audit reports recognised by major stock exchanges in the US.
Global market knowledge
Crowe Horwath International has more than 150 independent accounting and advisory services firms in over 100 countries around the world. This global network translates into Crowe Horwath (HK)'s expertise in bringing mainland Chinese enterprises to foreign capital markets, and also in providing quality international taxation and consulting services, Chan believes. 'Many Chinese firms, particularly private enterprises, are looking to go abroad for listing or find development opportunities. Crowe Horwath's global network serves our clients internationally through our member firms around the world. Through our global connections, we have helped various mainland Chinese clients to list in the US and other countries successfully.'
"Through our global connections, we have helped various mainland Chinese clients to list in the US and other countries successfully."
The increasing number of mainland Chinese enterprises seeking cross-border business expansion and diversification has led to Crowe Horwath (HK)'s establishment of the business valuation service. 'This can be crucial for our future development,' Chan explains. 'We have helped many mainland Chinese corporations set up their operations abroad. Not only do we provide technical and advisory support, we actively help them search for assets for investment as well. Meanwhile, we also get in touch with many referred clients from our member firms that have expressed interest in penetrating the mainland market.'
The accounting sector in Hong Kong has entered into a challenging period. Competition has intensified in the professional services market as some second-tier mainland Chinese firms have set up their vehicles in Hong Kong.
Profit margins have been squeezed because some companies have resorted to price slashing to get business, while increased staff turnover has also put a strain on the profession.
Regulatory pressure
In addition, regulatory pressure in both Hong Kong and mainland China is mounting, Chan says. 'We've coped with this by further enhancing our technical capabilities and tightening our internal audit. However, this more rigorous quality control may drive away some clients. As we always uphold consistent quality in compliance with new tightened regulations, this may drive up costs as well.'
The provisional regulations on CPA practices carrying out cross-border audit services, issued by the Ministry of Finance of the State Council in China, have had an impact on Hong Kong firms, he believes. 'Although the Ministry of Finance has not finalised the relevant consultation yet, there has been huge impact on Hong Kong auditors working in China. It restricts our business development.'
Meanwhile, reform by the China Securities Regulatory Commission (CSRC) is under way, and the prospect for partnership between Hong Kong and mainland Chinese firms remains unclear. 'The regulation tightening by CSRC requires professional services providers to increase their manpower,' Chan explains. 'But the recent shortage in the supply of experienced auditors and junior staff has affected our recruitment of the right candidates to carry out professional services for our clients in China.'
By adopting a multipronged approach, Crowe Horwath has tackled the various challenges both within the profession and arising from the international and national regulatory environment. 'On the one hand, we have improved our working efficiency and effectiveness, enhanced our quality assurance review processes and developed a closer working relationship with Ruihua CPA in China. Through our close connections, we identify mainland Chinese companies that seek to establish presence abroad and approach them to provide our services. We have also made heavy investment in the auditing technical team. With the mounting regulatory pressure, we need to beef up our technical capabilities,' Chan notes.
"By adopting a multipronged approach, Crowe Horwath has tackled the various challenges."
'We also have in place robust and extensive staff training and professional development programmes to provide better in-house training and career development for our staff. For over 10 years, we have recruited fresh university graduates and nurtured them into qualified professionals. Our comprehensive training and development programmes help our staff to adapt to the changing professional environment and meet the increasingly stringent regulatory demands,' he says. These programmes have proven to be successful, with high levels of staff retention.
Diversification strategy
At the same time, Crowe Horwath has diversified its range of services significantly. On top of its audit and assurance services, the firm has expanded the scope of its current non-assurance work to include:
· tax
· valuation and consulting
· risk management and internal control
· IT audit and corporate security.
'We strive to be a one-stop services centre for our clients,' Chan says. For instance, the firm set up its IT audit and data security service by recruiting computer audit and data security experts. 'These are seasoned professionals who have retired from specialised government offices,' he explains.
Meanwhile Crowe Horwath (HK) Global Corporate Advisory provides merger and acquisition, fundraising and corporate recovery services, while Crowe Horwath (HK) Consulting and Valuation has been established to assist clients in obtaining quality valuation services to meet their business needs. 'We also have highly qualified professionals to help clients carry out corporate studies and achieve sound corporate governance framework by strengthening their internal control environment and procedures,' Chan adds
Crowe Horwath is also a community-minded firm, proactively contributing to society; for example, it has been conducting honorary audit since the 1980s and currently provides this service to more than 40 non-profit organisations in Hong Kong. 'Our directors and partners hold a total of 48 positions in charitable and community organisations in the city,' says Chan. Perhaps the company's community spirit is inspired by Chan himself, who has been a regular blood donor since 1980 and will record his 100th time in his next visit.
Named a 'Caring Company' by the Hong Kong Council of Social Service since 2010, Crowe Horwath's corporate social responsibility programme encompasses sponsorships for village schools in rural areas of mainland China and participation events organised by welfare organisation The Community Chest.
Staff are encouraged to join in with fun activities, too, through events such as 'Happy Friday' in the office and attendance at a Halloween event last October.
'We believe in '"work hard, play hard",' Chan notes.
Wilson Lau, journalist
First published in the February 2015 China edition of Accounting and Business magazine.
"Through our global connections, we have helped various mainland Chinese clients to list in the US and other countries successfully"
"By adopting a multipronged approach, Crowe Horwath has tackled the various challenges"
"Many Chinese firms, particularly private enterprises, are looking to go abroad for listing or find development opportunities"