Michelle Hourican FCCA, Lecturer, Independent Colleges, Dublin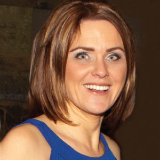 This interview was first published in the January 2015 Ireland edition of Accounting and Business magazine
I lecture in P3 Business Analysis and F9 Financial Management to ACCA full-time students in the Accountancy School at Independent Colleges, Dawson Street. I feel very privileged for the many opportunities bestowed on me from my ACCA qualification. As a student I represented Ireland on the ACCA international student panel. I passed all my exams studying full time before entering into a training contact with Deloitte Audit and then moving to Deloitte Consulting, where ACCA enabled me to complete many financial system projects.
During my time at Deloitte I was also fortunate to be offered the chance to lecture ACCA revision courses in three cities in China. One final point about ACCA is that it is a very flexible qualification, as I experienced after my third child was born when I made the transition from consulting to lecturing. I was able to bring my experience in project management into the classroom as a full time lecturer.
What is changing in business in Ireland at the moment is that the country is starting to return to economic growth. Banks are lending again and technology is evolving at a faster pace. Companies need to realign their approach to business from survival strategy to growth strategy, to adapt to the changing macro and competitive environment and ensure they are taking advantage of the potential growth in the market.
A significant and important change, which will occur from 2015, is that ACCA students can sit exams four times a year instead of the current system, which is twice a year. This is testament to the continued improvements in our Qualification, which ACCA has made arising from the extensive consultation with students and lecturers. The challenge for the Accountancy School at Independent Colleges and for all of the lecturers, including myself, is to develop a comprehensive programme that maximises the benefits of these new changes for our students.
Even on a bad day, always give 100 per cent commitment to the task being attempted until completion. Ireland is a small country where professional people are highly connected, so how you excel at your role is important and is a daily demonstration of your professional ability. To earn the respect of others you must deliver every day to your highest standard.
When I'm not working I like to be on the go all the time! I love the buzz of entering and completing different physical challenges, such as cycling to Galway in a day, completing half-marathons and 10k runs and competing in triathlons.
"A significant and important change…is that ACCA students can sit exams four times a year' "