20% off your first MarketInvoice fee


MarketInvoice helps businesses unlock money tied up in their unpaid invoices - on day one. If you are paid on terms, we can help you get your money faster without needing to wait the typical 30 to 90 days for payment. You can get up to 90% of your invoice face value advanced within 24 hours.
About MarketInvoice
Join hundreds of businesses getting paid faster
MarketInvoice is the world's largest online invoice finance provider. We help businesses access funds in 24 hours against outstanding invoices, licenses, contracts and subscriptions.
Launched in 2011, we've helped hundreds of businesses overcome the lengthy payment terms of their customers. More than 740 GBP million has been funded through our platform to date, with the money being used for payroll, to launch new products and to pay suppliers.
What we offer
High limits: we can advance 5,000 GBP to 3,000,000 GBP
Funding in 24 Hours: apply online in just 15 minutes - even less if you use online accounting software with Xero, Sage, or KashFlow. Once signed up, receive funds within 24 hours
Flexible finance: pay-as-you-go, sell one invoice or many. Use us only as and when you need
Low rates: typically pay between 1% and 3%
Transparent: no contracts or hidden fees, and you'll see the full costs upfront
So far our services have saved businesses 12 million hours.

How does Invoice Finance help your business?
How do long payment terms affect cashflow?


How can invoice finance help?
An invoice finance provider like MarketInvoice helps you get your cash faster - once you've completed the work you don't have to wait 30-90 days for payment.
You upload the invoice to our platform, and we'll give you up to 90% of the face value of the invoice within 24 hours. After the full 90 days we'll collect the full amount from your client and you'll get the remaining amount, minus a small fee.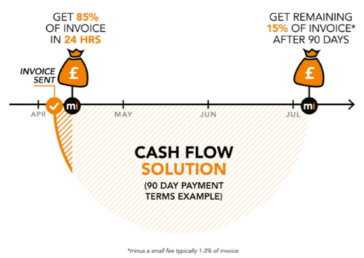 Who can use MarketInvoice
We love helping businesses succeed, which is why we approve around 90% of applications.
You can use MarketInvoice if

You have a limited or LLP company based in the UK or Ireland
Have 100,000 GBP + turnover, filed with Companies House
You sell goods or services to other businesses on terms
You have at least six months of trading history.
Get 20% off your first MarketInvoice fee
Spend less time waiting and more time running your business


"MarketInvoice was very, very quick and very efficient... It is a great comfort to be able to manage our cashflow this way"

Paul Kruzycki, founder of Ales by mail
"MarketInvoice has been the best support we needed at this inflection point of growth in the business... We can post invoices for sale as and when we choose, and that's super convenient"

Charlotte Knight, founder of G'Nosh
"Our ambitions would be in the next five years turning over £10 million. Prior to MarketInvoice, for me to say that, I would be very doubtful"

John Maynard, managing director of Maynards
Success stories
Just like the businesses above, we would like to be part of your success story. Apply now to claim your exclusive ACCA offer