15 months for £19.99
Discounts on 200 UK brands online and on the high street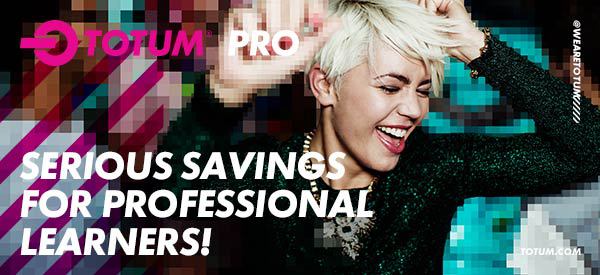 Limited time offer
To celebrate the launch of TOTUM Pro, ACCA members have access to the new card at a discounted rate of £14.99
TOTUM Pro will give you access to fantastic discounts such as 10% off Co-op, up to 30% off at your favourite restaurants and much more
£5 discount ends Tuesday 31 December.


TOTUM Pro is the brand new discount card and app for professional learners and members of professional associations.

Becoming a TOTUM Pro member brings you a range of great discounts on everything including eating out, fashion, health and fitness, travel and technology. Making your money go further.

The TOTUM Pro app is available on both the Apple App Store and Google Play Store and puts the discounts exactly where you want them - in your pocket.

Buying your TOTUM Pro discount card is simple and takes only a couple of minutes, here's how:

Click on 'Get the offer online'
Enter your email address and click Next (you will also need to agree to the privacy statement)
Your verification code will appear. To add it to your clipboard, click the Copy Code button
Click on the 'Get your TOTUM Pro Card' button; you'll arrive at the TOTUM website
Enter your name and email address and create a password
Start to type in "ACCA" and click on the full name when it appears and the click 'Verify my student status'
Click the 'Select' button by 'Enter a verification code from your Place of Study' and then paste in the code that you had copied to your clipboard and click 'Submit'
Select 'Totum Pro' from the list and the 15 months option (to get your 3 months free)
Purchase you Totum card
Don't forget to add your home postal address so the card is sent directly to you.

Terms and conditions
There is a £1.50 postal charge for your card to be posted to you.

This benefit is made available through Parliament Hill Ltd of 3rd floor, 127 Cheapside, London, EC2V 6BT and you can use this benefit at your discretion. Parliament Hill and ACCA are not part of the same group as any of the product/service providers which form part of the benefits scheme.