Engagement letters
Letters of engagement are mandatory. On accepting an appointment, the practitioner must send the client a letter of engagement.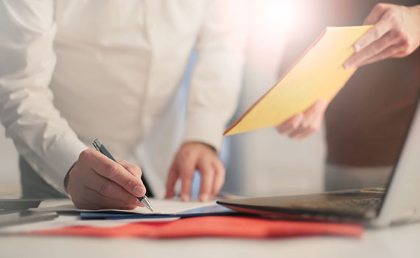 This forms the basis of a contractual relationship between the practitioner and the client.
A properly worded letter of engagement establishes the framework in which the client relationship is managed.
It should set out the work that is to be performed and the basis on which the fees will be charged. (It is rarely worthwhile suing a client for non-payment of fees if you do not have a letter of engagement in place.)
Many practitioners now limit their liability for work done by an appropriately worded clause in the letter of engagement. The liability cap should be discussed and agreed with the client at the start of the assignment.
Dispute resolution
Another area that is strongly recommended to be included in a letter of engagement is that of dispute resolution.
Whilst a client should be informed that they have the right to approach ACCA if a dispute cannot be resolved satisfactorily, in the first instance, the engagement letter should explain the firm's internal disputes resolution procedure.
In particular, it should identify the person within the firm that the client should contact in the event that he or she is dissatisfied with the service received.
ACCA in partnership with VS Consultancy has produced a series of engagement letter templates for a variety of different scenarios. These are available for ACCA members to purchase for 30 GBP+VAT (purchase details in the red box on the right). This product incorporates suggested wording for GDPR.
This time-saving tool consists of self-loading Microsoft Word engagement letter files, which you can then tailor to your needs. The product consists of standard letters of engagement for a series of different business types and services. It is delivered in the form of a Microsoft app.
It also offers guidance on the following:
What an engagement letter should cover to clarify the scope of your services;
How to confirm the agreement with the client;
Writing a framework for how the work will be performed;
Establishing an appropriate working relationship;
How the engagement letter should address fee arrangements.
This product will run on systems using Windows 97 and subsequent versions.
After your purchase
Shortly after you have completed your purchase, you will be sent an email link from which you can download and install the product. Interim updates are provided free of charge and a GDPR update was released in April 2018.
If you have not received this email after two working days then please contact ACCA:
Telephone: 020 7059 5954
Email: EngagementLetters@accaglobal.com
Factsheet available for immediate download
Download our free Technical Factsheet Engagement Letters for Tax Practitioners that includes a number of taxation engagement letters.
Engagement letter templates available to purchase
We've produced a suite of template engagement letters that is delivered as a Microsoft app and runs on Microsoft Word.