Staffing, recruitment and training
The decision on whether or not to have staff will depend on the type of practice you wish to have.
This resource has been developed for the UK market – if you are not based in the UK then you should consider how the information and advice can be applied in your market.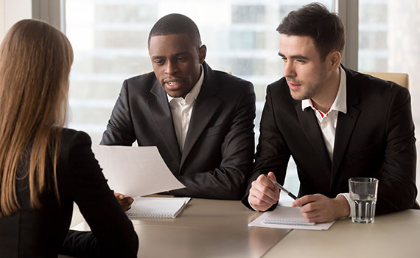 Some practitioners wish to be sole practitioners without any staff and the issues that accompany being an employer.
However if your practice grows to a size where additional help is needed then you will need to recruit help - either in the form of employees or sub-contractors.
Some ACCA practitioners in the UK passed on their top recruitment tips in this article.
What are the options?
Apprenticeships (UK)

In the UK, apprenticeships are set to transform training and staffing of accountancy offices and ACCA is leading the way with Trailblazer, our new standard setting syllabus.

Basically for most small employers the government will fund up to £8,100 per apprentice to cover the cost of training. There are also incentives to taking on an apprentice for businesses with fewer than 50 employees.

The advantages for a new practice are obvious:

Low cost
Goes hand in hand with training for a formal accountancy or finance qualification
The apprentice will learn and grow alongside the practice.

An ACCA webinar introducing ACCA Apprenticeships for Non-Levy Paying Employers provides further information on this route.

Sub-contractors

It may be worth considering self-employed sub-contractors to help out with excess work.

Often there are accountants available who want to work flexibly and so sub-contract to a number of local accountants. Ask around your local network of accountants or search/ advertise on social media such as LinkedIn.

Again the advantages are clear:

Flexibility with no excess employment costs
No statutory red tape such as holiday pay, redundancy etc
The right sub contractor would bring instant knowledge and hopefully need little supervision

The hard bit is finding the right person. Word of mouth and recommendations are normally the safest method.

Employees

You may feel that it is better to bite the bullet and try and recruit experienced full or part time staff from the start. Obviously this will be more expensive and time-consuming to recruit.

However a good interview policy may well set up the practice with staff who can really help the you grow.

There is also a large range of recruitment agencies that will help you advertise your vacancies and advise you on the level of salary that will be needed to get the right staff.

ACCA has its own online jobs board which works with many accountancy firms both large and small and is an ideal way to advertise vacancies. ACCA members are entitled to a number of free advertisements on this jobs board.

If you are considering employing staff, or if you have already done so, our Employment factsheets page has a wealth of advice for members based in the UK, on a range of topics, such as 'managing performance' and 'contracts of employment'.
Webinars
In 2015, we produced a series of webinars with UK member Val Steward on the theme of 'starting a practice'. This third webinar addresses recruitment and dealing with staff.
Other webinars in this series
Starting a practice: part one (covers business planning, financial planning and IT considerations)
Starting a practice: part two (covers marketing and selling)
Also available
ACCA careers jobs board
If you decide to recruit staff then one source of recruits is our own jobs board, where you can advertise to find ACCA students, affiliates and members - ACCA members are entitled to a number of free advertisements.
Becoming a training practice would make you more attractive to students.
Becoming a training practice
Other areas of this website support ACCA employers. Here are some useful links to get you started:
ACCA research
ACCA has produced a number of global reports on talent and talent management: