Cheryl Sharp
Cheryl Sharp of Pink Pig Financials specialises in parent led businesses.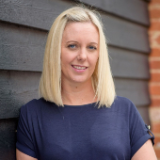 I think my top tip for practices and client businesses through the pandemic would actually be the same - what have you learnt from this experience? What changes have you made in your business to get through this? Use these changes and learnings to strengthen and expand your business going forward.
The key takeaway has been using tech – as a practice we've always been quite tech focused, but Covid-19 has forced our clients to embrace tech more. We've got a few clients that have turned all face to face delivery into Zoom calls, and some will be continuing to offer that as an extra service once lockdown is over and everyone goes back to 'normal'. Others have added services to their business - like takeaway and delivery of items. Some have realised that they don't need an office, and actually remote works. Some are little wins, others are bigger.