Daniel Crowther
Daniel Crowther of Thorne Widgery specialises in agriculture.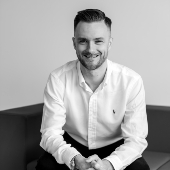 The impact of Covid-19 has been varied - dairy has been badly affected with those supplying to the catering industry having to throw away excess milk. Beef and lamb trades seem to have held up but the market is volatile as is the case with arable.
Longer term, it is difficult to know how we will get back to 'normal' when we get through Covid-19. There is already a shortage of labour with the loss of EU labour which is providing an immediate challenge. The global economy will be affected, and we will see if border controls/transport restrictions etc have a lasting effect on imports/exports.
These restrictions will force everyone to look for possible UK alternatives. In some cases this will not be practical and we may be faced with shortages. If reasonable UK alternatives can be found at a reasonable price, it may change supply chains but it will inevitably depend on cost.
I hope that this pandemic gives all businesses, not only agriculture, the chance to look at their structures/business models looking at their markets/costs. With the potential reduction in imports this may well create new opportunities for the more forward- thinking businesses.