Eriona Bajrakurtaj
Eriona Bajrakurtaj of Majors Accounts & Co Ltd discusses a different type of niche – a cultural niche.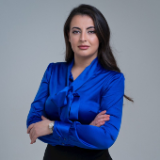 The pandemic has given us an opportunity to consider flexible working. My team like being able to work from home and have a better work/life balance meaning they are generally more efficient. I have been able to see through this pandemic despite being understaffed by 4 people and with the extra workload we have been faced with. Although my team may not be working from home all the time in the future, it means more space in the office or opportunity for growth without having to get larger premises.
Clients have to provide documents electronically now so we will capitalise on this so that it becomes a new way of working which will help them to become more efficient, and free up time to work on growing their businesses.
Personally, this has opened my eyes to who I really want to work with. There are clients that have shown that they are not the right fit culturally with our business, and that it is not worth continuing a business relationship with them. Instead, we have picked up new clients that really like the way we work, and the time we are spending with them is extremely valuable for both parties.