Gavin Spencer
Gavin Spencer of Beach Accountants Limited specialises in sport and related sectors.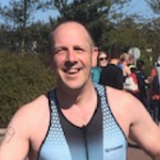 We are excited to hear that the gym and swimming pools could re-open in July from lockdown. During lockdown what has helped a lot of us through is daily exercise and fitness. Being restricted to an hour a day was a challenge for some, but sport and exercise helped us, both mentally and physically.
From this I believe we are looking to a fitter and healthier Britain, and as sport and related sectors is one of our specialisms, we are looking to exciting times. As an avid runner and triathlete, I cannot wait for sporting venues to re-open and events to take place.
There has already been an uptake in healthier food choices - one of our clients proving that fitness and vegan go together - while sports clothing and sport supplements bought online have increased.
Having clients that are Olympic Gold Medallists and World Champion Gold medallists, lockdown has been a challenge to keep up their training, so we are keen to see gyms, swimming pools and training facilities to re-open, for them to add inspiration for us all to be a better and fitter humans.