Greg Houston
Greg Houston of Infinity Partnership shares insight into the oil & gas industry.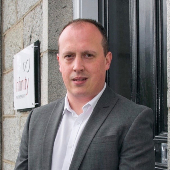 Being based in Aberdeen, our primary client base revolves around the oil & gas and energy sector.
The oil & gas industry has double the issue, not only the COVID-19 effect but also the knock-on effect of the low oil price. For Aberdeen, as a result of the downturn in 2015, most businesses looked to grow internationally. This has created a huge issue with the current travel restrictions. This will lead to a slower recovery for the oil & gas industry as until the oil price recovers, a lot of the projects will be delayed. The majority of businesses had reset their cost base as a result of the downturn in 2015, and consequently there will not be much more cost cutting that can be done.
The challenge for the Industry as a whole is to diversify into alternative energy as there is a great deal of knowledge that has been gained in working in hostile offshore conditions that could be applied to the Renewable Sector. The primary issue will be that until the new "normal" can be established and travel restrictions eased, it will be difficult for the Industry to fully recover.