James Lizars
James Lizars of Thrive Accountants specialises in the technology sector.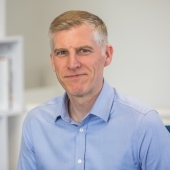 During the pandemic, the technology sector has not done as well as people might think – Zoom is a famous exception but the market it serves or the problem it solves determines how well any tech company will do.
One client whose platform serves the high street has had a tough time during lockdown. Another that provided smart wireless charging pads in venues like coffee shops and co-working spaces have been able to use their agility to adapt. That client responded rapidly to the changing outlook for offices where hot-desking is on the rise but users have concerns about hygiene. They have developed a charging pad that changes from green to red if a desk has not been cleaned since its last use, allowing the building manager to have an overview of all desks to maximise availability and usage, safely.
Tech as a whole has not fared particularly better than any other sector – it offers solutions to market problems so if those problems are affected by Covid-19 then so are the products. James has helped his clients with cash flow forecasting to determine the impact of various scenarios to either stay solvent, manage growth or signal when new investment might be needed.
James will spend the next few months helping his clients keep a closer check on their financials. He will automate Xero reports into their inboxes and run webinars and 1:1 sessions to help them better understand the reports so he can move them towards greater financial resilience and better-informed decisions.