Jane Heard
Jane Heard of Jane Heard Probate Services specialises in probate work.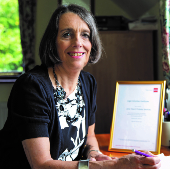 Having been in general practice for years, gaining a wealth of experience assisting clients, executors and solicitors in complex situations relating to probate, I jumped at the chance when the Legal Services Board gave regulatory approval to ACCA to authorise its members to provide non-contentious probate services.
Accountants are ideally placed to provide this service, dealing with figures, liaising with HMRC, shouldering the administrative burden, completing countless forms, providing valuations, calculating tax liabilities, working to deadlines, preparing accounts and looking for ways to reduce the overall inheritance tax liability.
You need to constantly ask questions, be a detective, think outside the box, be methodical and keep good records. Inevitably an answer to one question leads to more questions, and there can be long delays in getting answers from third parties. It is a very different area of work but incredibly rewarding. Accountants are always there to help make life easier for clients but this work has the added responsibility of providing a caring, professional, efficient service at the sensitive time of the loss of a loved one.