Kamlesh Rajput
Kamlesh Rajput of Sterling Finance specialises in entrepreneurs.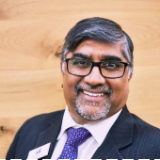 During the pandemic, Kamlesh has been advising his clients to modify, diversify and strengthen - strengthen in terms of getting the right marketing platform, and having the right structure of people, processes and systems. He has encouraged them to use their bounce back loans to invest in these areas and improve their competencies.
The world of an entrepreneur can be a lonely one. The stress of uncertainty during this pandemic has put them outside of their comfort zone. They need their business advisers and not just for financial reasons. For Kamlesh, client-care extends to concern for their well-being as well as their livelihood and it is all driven by ethics.
Accountants are like a sat nav – they help clients to navigate the business world. He helps his clients in their relationships with investors and emphases the importance of ethics – investors are hard to find right now but we are seeing a new era where ethics will come to the fore and investors & clients will be drawn to those behaving ethically.
Future entrepreneurs will understand this need for ethics and it will give them the confidence to create businesses with accountants as their navigators.