Martin Tregonning
Martin Tregonning of Tregonning & Co shares insight into practising in the Shetland Islands.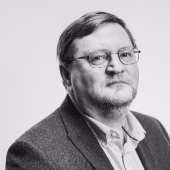 Being a group of isolated islands, the sense of community is quite strong but with the ferries and the airline stopped for all but essential travel, you really felt cut-off from the world. Most of my clients are small businesses and it was a very worrying time for many of them. I helped a number through Government support schemes as well as providing general encouragement and support.
I was well prepared for working remotely in the lockdown and had already moved most of my clients onto cloud accounting. It has been a good opportunity to get those clients not quite there with cloud accounting to take that leap.
The one identifiable benefit for me of the lockdown is that so many events, training, and networking opportunities have moved online. There is a whole raft of events that previously I could not attend due to the cost and time away, which I have now been able to join. My location has ceased to be an issue, and I now feel on an equal playing field with accountants all over the UK.
I never charged my clients any more for any additional support or things like grant applications and furlough claims, needed during the lockdown. My hope is that this may pay off in the long term in that people will remember who supported them through the hard times. I have even managed to pick up additional clients during the lockdown.
Most of my clients have now emerged from lockdown, some in better shape than others, but all are still on the go. The one piece of advice that they have all taken onboard is that the businesses that survive long term are those that are proactive and face the post lockdown challenges head on. There is no room for being overwhelmed or defeatist.
Change is constant, not just now because of COVID-19, and can often be difficult, but it is also full of opportunities. I believe that those who survive will be those who learn how to adapt to change and look for the opportunities amongst the chaos, which is a lesson for me as much as my clients.