Nick Westbury
Nick Westbury of Nick Westbury & Co Ltd specialises in manufacturing.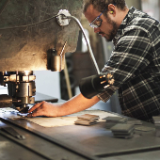 We support small manufacturing businesses which employ skilled workers producing high quality products used in manufacturing & construction.
Many of these businesses were already weakened following a fall-off in demand in late 2019 due to uncertainty over Brexit so Covid-19 came as a huge shock. Where existing cash resources were limited, we helped some clients gain support from the CBILS. In some cases this meant bringing the accounts up-to-date, and in all cases, we helped directors carry out the 'business in difficulty' check.
We helped our clients with practical advice on reducing operating costs, furloughing staff where possible, renegotiating rents, postponing mortgage & finance payments etc. Detailed advice was provided on the operation of the CJRS - how it should be used to ensure that estimators return to work before production staff and then fitters; and if and how directors could be furloughed.
After manufacturers were encouraged to return to work, we helped our clients plan for reopening and as each additional announcement has been made by HM Government, we have shared our understanding of the proposals and dealt with our clients' queries.