Peter Jarman
Peter Jarman of PJCO Chartered Certified Accountants shares an example of the opportunities out there as businesses revive.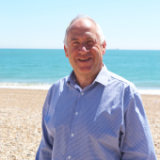 We have been talking to our cafe/restaurant clients during lockdown and in particular an ice cream parlour client. Whilst the shop is closed and their staff have been on furlough, they have been training the staff (an activity allowed while on furlough) to prepare ice creams that are designed to look like roses.
When they reopen, we are hoping this will be a real game changer – it's the same amount of ice cream but they can charge double the price for these unique ice creams. It also gives the employee a chance to create a career out of serving ice cream rather than just having a job.
So my top tip to business owners and their accountants is to use the lockdown to improve your business so that it can bounce back with a bang!