Prakash Bohorun
Prakash Bohorun of Bohoruns Accountants specialises in charities and SMEs.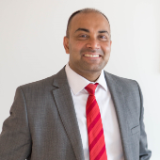 This pandemic has reiterated to us how important people are. Throughout this lockdown period we have been and are helping clients on a pro bono basis to tap into the various Covid-19 schemes available. We need a pragmatic approach as it will be a couple of years at least before the economy starts to recover. As accountants we are best placed to ensure proactive advice is given to business owners, directors/trustees. The more businesses we can help to survive this current pandemic the better!
Our top tips for practices and clients are to value your team more than ever and embrace new technology for virtual meetings. Cashflow forecasts and business plans are now your survival kit. Those with formal cashflows should sensitise their forecast by at least 25% for the next two years. With any expenditure - business or personal – ask yourself is it a need or a want?
And use these three cost saving principles:
cut costs - look for more competitive deals
cut back - review the budget and look for areas where spending can be reduced or timing of expenses can be staggered
cut out - if it's not necessary, cut the expense out.