Sanjay Sah
Sanjay Sah of Makesworth Accountants specialises in landlords and property.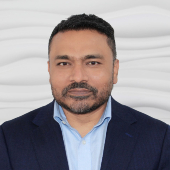 During this Covid-19 pandemic, property landlords and real estate investors have been adversely affected like many others. Many have postponed collecting rent from their tenants due to the chain effect of tenants losing their income and the government extending the suspension to eviction policy, so they have experienced a reduced cash flow. Fortunately they have been able to apply for mortgage holidays to get some relief.
Similarly for people in the real estate business, the buying and selling of houses had stopped as viewings were not allowed under social distancing rules. However, this is changing now that the housing market has largely re-opened following the easing of lockdown restrictions.
I have been in constant communication with my clients on how to manage their cash flows and how to diversify their portfolio to mitigate such risks in the future. I am helping them to make the most of relief and support schemes provided by the government, and also making use of technology such as Zoom/Skype and digital cloud platforms to maintain their business. As a business, they can be part of the solution for any situation or crisis.