Stephen Paul
Stephen Paul of Valued shares insight into design agencies.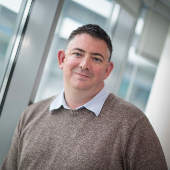 Design agencies are doing very well in the pandemic as people pivot their businesses and need new websites, brochures, branding strategies, and social media strategies. However while some agencies have just had their best quarter ever for profits, some are expecting their worst ever quarter coming up.
Many design agencies take deposits in advance for design and build work, but orders are being cancelled with clients demanding the return of deposits to ease their own cashflow situations. Many agencies have already spent those deposits to keep going during the pandemic so will struggle to return the deposits – yet failure to do so could jeopardise future business from those clients.
Stephen has created a Facebook community for his clients during Covid-19 and does live FB sessions after major Government announcements to explain what it could mean for them. Clients are sharing their experiences of securing loans and grants, and the community has developed so much that there is now a marketplace enabling clients to sell to each other.
Stephen's key message is to inform clients on what they can do in order to give them options and light at the end of the tunnel.
In addition to accounting work for his clients, Stephen also does coaching and mentoring for other accountants on their digital journey. He was a Xero advocate on one of their roadshows and had so many requests for support from other accountants that he created a chargeable service to help them. The service offers peer to peer support and he has a team member who is dedicated to implementing software in other. His team can even do software implementation for other businesses – on behalf of their accountant or otherwise.
During the pandemic, practices have used Stephen's service to help them digitalise quickly so they can support their clients. The key is to help firms identify what they want their new normal to be and understand the culture and fit of their people – that determines what technology needs to come in. There tends to be a lot of legacy in older firms but Covid-19 presents an opportunity for partners to get the technology in now to future-proof the practice. Stephen can develop a road map for them in 72 hours and help with the implementation.