Wijay Kanagasundaram
Wijay Kanagasundaram of WIS Accountancy Limited specialises in contractors.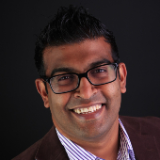 We moved all our platforms to the cloud five years ago. It was a costly exercise at the time but since then it has saved us a lot on overheads and improved practice efficiency. We also had a plan and process in place for business continuity management. We'd been trialling it for the past few years so when the lockdown started we were able to move seamlessly from office working to home working.
We are spending a lot of our time speaking to our clients to help them navigate this turbulent time. From the beginning of lockdown, we've been sending clients regular updates on all COVID-19 Government support schemes and helping them apply. The increased client focus has been deeply appreciated and I am grateful to each of our team members, without whom none of this would have been possible.
On behalf of our contractor clients, we are continuing to lobby against IR35. We are also campaigning to have limited company directors included in the government support schemes. Where our clients do not currently have a contract, we are encouraging them to do training, update their CVs and promote themselves.