Narayanan Vaidyanathan, Head of Business Insights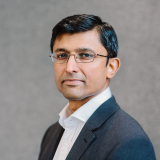 Narayanan leads ACCA's futures research, and focuses on how future trends will impact business and the accountancy profession. With a global remit for the topics he covers, he inspires our team of subject-matter and policy experts to explore specific future trends.
Particular areas of thought leadership within his research portfolio include work on the global economy, emerging technologies and business models, sustainability, social mobility, as well as sector specific insights, in relation to the public sector, financial services and oil and gas.
He's also our staff expert for the Accountancy Futures Academy Global Forum, and represents ACCA on government, industry and academic forums such as an all-party parliamentary group in the UK and an international standards body.