Marianna Rogdaki,
Manager, Audit and Business Law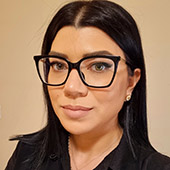 Marianna has an extensive professional and academic background in the auditing field and her research interests help shape ACCA's policy in Audit and Assurance.
She works within the Business Reporting team, mainly in audit-related projects, while engaging with the ACCA Global Forums in Audit and Assurance and Business Law.
Before joining ACCA, Marianna was an audit policy Researcher at London School of Economics (LSE) and a Visiting Lecturer of Accounting at King's College London.
She also worked for PwC Greece specialising in auditing clients, mainly within the shipping and real estate industries.
Marianna has a first degree in Business Administration from the Athens University of Economics and Business and a Master's degree in Accounting from the LSE. She is also an ACCA member.