Overview
This programme is now open for October
We have partnered with the CFA Institute to offer ACCA members access to Giving Voice to Values for Investment Professionals, CFA's online programme in the CFA Institute Ethics Learning Lab.
Enrolment is open for the next session, which will run from 5 October - 6 November.
The programme is free and open to anyone.
CFA Institute worked together with Dr. Mary C. Gentile, the creator of the Giving Voice to Values approach (GVV) and Nomadic Learning to customise the online programme for those in the investment industry. Incorporating content that will resonate with investment professionals, you will learn the core concepts and fundamental "re-framing" of values conflicts that enable effective, values-driven action and give participants the opportunity to reflect on and practice these ideas.
In the online programme, you will have the opportunity to explore the application of GVV, to reflect on your own experience of acting on your values, and share these with other members participating in the session. Using a mixture of stories, videos, social interaction, and quizzes, this unique digital learning experience will give you a comfortable place to start practicing new behaviours.
Sign up in the CFA Institute Ethics Learning Lab by using the Book Online link. Be sure to note in your profile that you are an ACCA member.
If you have any questions, please contact CFA Institute.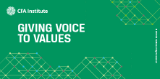 Disclaimer: This course is available for ACCA members, you may need your ACCA membership number to complete your booking. This course and outline is provided by a third-party course provider. All course bookings are subject to the terms and conditions set by the course provider. Please see individual supplier pages for full terms and conditions. ACCA takes no liability for bookings made with third-party suppliers.
Prices

Course available
5 October - 6 November
You will be redirected to an external website for booking.