Success in the top finance job is not just about financial competence – an ability to lead and to influence is what makes really great CFOs stand out from their peers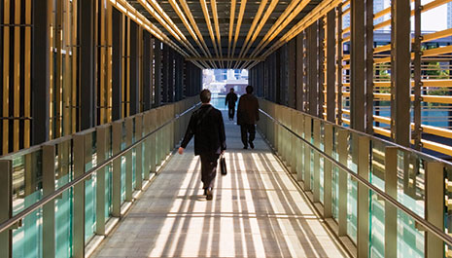 This article was first published in the March 2016 international edition of Accounting and Business magazine.
As he stepped up to the microphone, the Fortune 500 CFO must have felt quietly confident about the results he was poised to deliver. Revenue was up, profits were up, the outlook was positive: it was all good news.
Yet on the day of the earnings announcement, the company's stocks went down. Bill Ribaudo, who grooms future finance leaders as dean of Deloitte's Next Generation CFO Academy, explains that it wasn't what the CFO said, but the way he said it, that spooked the market.
'The press, knowing that CFO, reported that he didn't seem confident enough about the future,' Ribaudo says. In effect, they just didn't buy what he was saying.
When he shares this story with aspiring future CFOs, hand-picked by Fortune 500 incumbents as their likely successor, Ribaudo tells them that effective communication is the most important attribute for the role. 'We teach them that 93% of communication is tone and body language, and only 7% is words – so they'd better know how to do that.'
Deloitte's CFO Academy was set up in the United States, and the first of its twice-yearly programmes took place in May 2011. With the CFO role shifting to become far more operational, much of the academy's guidance is focused on the key skills that a front-office finance person would need, Ribaudo says.
'To us that means combining leadership, influence, and of course competency. But competency is the table stakes. Very few CFOs are not competent as a financial person. What makes the difference between being a merely good CFO and a great CFO – or in some cases whether you get the job or you don't – isn't about your competency any more, it's about your ability to lead, and to influence.'
Ribaudo, who is also a managing partner and the technology, media and telecommunications industry leader at Deloitte, likes to tell the up-and-comers, 'Let's leave inspirational leadership up to the CEO.'
'The CFO's job is confident leadership,' he says, 'and that results from their clarity and confidence in how they communicate. But if you are the leader and the influencer, and you cannot communicate clearly and confidently, you can't be a great CFO.'
So are the best CFOs born or made? Ribaudo believes it's a bit of both, 'though if you don't have enough of the genes, it's hard to truly be a great CFO', he says. You can teach the competence side, he explains. You can be smart, and you can learn how to be a better leader, a better influencer. 'But you need to have some innate skills in leadership, influence and communication.'
Announcing financial and operating information is a very large portion of the CFO's job, he points out. 'When a CFO speaks, people have to have confidence in what they say. Maybe it's not good news – but they have to be confident in delivering it.'
In addition, a great CFO needs to have curiosity and authenticity, Ribaudo says. 'That might be true of many great leaders, but clearly it's important for the CFO as well. Curiosity is the ability to continue to ask questions, to get to the bottom, to understand. And authenticity is important for any leader.'
Another skill he rates highly is the ability to transform from a 'no' person to a 'how?' person. Instead of routinely rejecting ideas and requests, he explains, 'A great CFO says, "Let's think about how we can get that accomplished." That moves things dramatically from the approval to the teamwork side, which obviously helps on the operating process.'
He or she must also understand where value comes from, Ribaudo continues. 'One of the main jobs of the CFO is determining where to allocate capital, and that relates back to where value is created. If you break a company down, some segments are more valuable in public markets than others – the question is which segments have the most value, or the opportunity to improve value.'
Of course, given the recent high turnover of CFOs in Asia, and the uncharted waters of China's current economy, the need has never been greater for companies operating in this region to hire or develop high-calibre CFOs. What special qualities should they possess?
Executive recruitment firm Russell Reynolds Associates in Hong Kong reports that over the past two years, more than 90% of candidates successfully placed in CFO roles regionally have had leadership experience outside the finance function. According to Caroline Raggett, managing director at Corporate Officers in Asia, 85% of them stand out from their peers for their commercial acumen, communication, relationship-building skills and strategic mindset. 'Moreover, multi-sector experience, digital knowledge and entrepreneurship or innovation have become significantly more desirable compared to five years ago,' she says.
Given that growth strategies which worked in the past for organisations in Greater China are unlikely to be successful in the future, according to Anthony Thompson, regional managing director for PageGroup, Greater China and South East Asia, CFOs need to be at the forefront of change, driving effectiveness and pushing for efficiencies in the whole organisation, as well as within the finance function.
Apart from the changing economic landscape, he explains, the maturity of businesses, both multinationals and also those regionally or locally headquartered in Asia, has changed as well.
'Look at China in particular,' Thompson says. 'The role of a CFO in China 10 years ago within many organisations was number crunching – now it's about management, business leadership, long-term planning, and offering a really broad advisory service to the CEO or to the board overall.'
Businesses have also become more complex in emerging markets such as Indonesia and Malaysia, he adds. 'Globalisation has had a really big impact. People in a senior role have to be able to interact across cultures, bridge different language barriers and operate in ways that meet standards that perhaps were more locally confined a few years back.'
An effective finance leader in Asia 'will need to be a champion for compliance and ethics', Steel Qian, Asia finance director with TMD Friction responded in the latest Michael Page International CFO survey. 'In addition, they should have a high level of maturity, perseverance, team spirit and sensitivity to corporate politics.'
Another respondent, John Willcocks, APAC CFO » at Cushman & Wakefield, advises aspirants to 'start at the bottom and understand the nuts and bolts of how businesses tick, as you won't have the chance to do this later in your career. Don't be afraid of new challenges. Technical skills are important but the development of your management skills to progress your career is equally as important.'
Perhaps specific to this region, a great CFO should also have the ability to quell the nervousness felt by their boards offshore, Thompson says.
'Confidence in China is much greater on the ground than it appears elsewhere,' he says. 'When we speak with multinationals outside China they are nervous about what's going on, with some good reason, yet we continue to see pretty strong levels of activity and quite a lot of growth in China.
'Multinationals with headquarters far from China, which perhaps don't have intimate knowledge of it, are cautious about making decisions, whereas CFOs in Chinese companies continue to be positive. Business is not booming as it was a few years ago, but it is still recording reasonably strong growth relative to the rest of the world. There is a slowdown, but it's slowing down from something that was very rapid.'
This can be a challenge in itself: how do CFOs at the coalface manage that sentiment? '[By spreading the message that] there is certainly some risk but we haven't seen the China market collapse by any stretch of the imagination,' says Thompson. 'As a recruitment company we're a barometer of activity. After 20 years in Greater China, we can confidently say that activity is as strong as it's ever been.'
Peta Tomlinson, journalist
"A great CFO needs to have curiosity and authenticity – 'the ability to continue to ask questions, to get to the bottom'"