As finance director of the Leeds Castle Foundation, Robin Richman FCCA must manage the competing demands of historical preservation and maximising commercial potential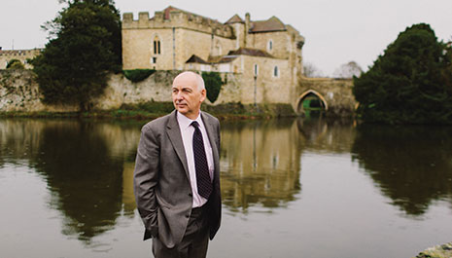 This article was first published in the March 2016 UK edition of Accounting and Business magazine.
Robin Richman has a lengthy daily commute from his home on the Surrey-Sussex border to his office at Leeds Castle, just outside Maidstone in Kent. But as you drive through the estate gates and 'the loveliest castle in the world' (according to the historian Lord Conway) comes into sight, it is difficult to feel sorry for him. As views from the office go, this one is impossible to beat.
A castle has stood in this part of Kent since 1119. The Norman foundations survive, but the rest of the moated castle has undergone a succession of transformations over the centuries. For 274 years (from Edward I to Edward VI) the castle was in royal hands, and Henry VIII's first wife, Catherine of Aragon, made it her home. It was then owned privately by a succession of families before falling into disrepair at the beginning of the 20th century. In 1926, though, it was bought by an American heiress, Olive Wilson Filmer (later Lady Baillie), who snapped it up for £180,000 in spite of fierce competition from the newspaper tycoon William Randolph Hearst.
Lady Baillie devoted the rest of her life and much of her inheritance to transforming the castle into one of the great country houses of England; Hollywood stars, including Charlie Chaplin and Errol Flynn, politicians and foreign royalty flocked to Leeds castle during the 1930s and 40s for Lady Baillie's famous and lavish house parties. When she died in 1974, Lady Baillie left the castle and its surrounding 500-acre park to a charitable trust, the Leeds Castle Foundation, on the understanding that it would be preserved for the enjoyment of the public and used for important national and international meetings, especially for the 'furtherance of peace'. Her wish has been fulfilled; the castle opened to the public in July 1976 (10 million people have visited in the past 30 years) and it has hosted, among other things, the Northern Ireland peace talks and a G8 summit on climate change.
Money pit
The successive rebuilding and remodelling over the years means the castle is an eclectic mix of period architecture, including a medieval gatehouse, a Tudor tower and a 19th-century manor house. It is also the mother of all money pits – it takes £2.7m a year just to maintain it, and that's assuming nothing crumbles, cracks or falls down.
'Financially this place could be like a sponge,' says Richman, who has been finance director of the Leeds Castle Foundation since 2009. 'We spend £200,000 a year on non-recurring maintenance alone. We could easily spend our resources 10 times over.' When he joined the foundation (hired by Sir Brandon Gough, former chairman of Coopers & Lybrand and head of the foundation's trustees at the time), the list of work that needed to be done urgently was intimidating. 'Before the new CEO arrived [shortly before Richman], nothing had been repaired until it broke,' he says. 'The infrastructure was in an appalling state, and planned preventative maintenance was a new concept.'
Money needed to be spent, but in 2009 that was in short supply. The foundation is a charity but has no external funding. 'We have to trade,' says Richman, 'which means we have to be good at what we do.' The castle attracts over half a million visitors a year but, as he points out, competition for the leisure pound in this part of the world is intense. 'Hever Castle, Canterbury Cathedral, Rochester, Chatham Docks, Bluewater, Dreamland, they're all competing with us.' On top of that, income from day visitors is dependent on any number of things that the foundation has little or no control over – from the weather to striking French port workers ('Operation Stack' closed the M20 and the main access route for tourists to the castle several times in 2015).
'It was clear that if we were going to improve turnover we needed other income streams,' says Richman. Fortunately he had gained experience in this very field during a career spell in the 1980s and 90s at United Racecourse, which at the time » owned Epsom, Kempton Park and Sandown Park racecourses. 'It was a fantastic company with a very forward-looking CEO,' he says. 'His view was that there were only 59 race days a year, and the company needed 365 days-a-year assets. So we introduced events, exhibitions and outdoor markets on non-race days. I learned a lot about using the synergies of the group while making each site distinct, so none of them stole business from the others. The CEO added 50% to the group's turnover.' Richman stayed at the group for 13 years, rising from financial controller to finance director, and remaining in position after it was sold to the Jockey Club in 1996.
Medieval sleepovers
He brought these same principles to Leeds Castle, seeking out ways to increase revenue through hospitality and accommodation. It was possible to stay overnight in the castle in 2009, but only if you were attending a wedding, conference or other specific event. Over the next few years, and with the agreement of the trustees, significant investment was made in developing the stable courtyard into 17 new rooms, offering bed and breakfast to paying guests. The Tudor Maiden's Tower on the castle island was also refurbished and now has five bedrooms and two event rooms. Another 20 bedrooms are available in the castle itself, as well as five separate holiday cottages scattered around the estate. Medieval 'glamping' (glamorous camping) was introduced in 2013 and has proved popular, with 80% occupancy between April and September.
'We now have three separate venues on the estate where you can get married,' says Richman. 'We had 120 weddings here in 2015; it's been a real growth area.' The golf course on the estate, which was in decline and losing money in 2009, has also been revived and a membership scheme introduced, and in recent years two children's playgrounds and a land train have been added. The cumulative effect of all this work has been a boom in revenue. 'The contribution from non-visitor activities has increased seven-fold since I joined,' he says. 'I'd like to increase that to 10-fold. The thing I'm most proud of here is the way in which we've built up hospitality income.'
The target for 2016/17 is to bring the business user back to Leeds Castle. Corporate events tailed off after 2008 but interest is slowly returning. 'It's a great place for an event or conference and we can offer a lot on top of the basic facilities, from a golf course to balloon flights and falconry displays,' says Richman. The foundation is currently applying for permission to turn another building on the estate into nine-bedroom accommodation and function rooms for corporate events. It also hopes to add a new visitor entrance and ticket office – the castle attracts anything from 300 to 7,000 visitors on any given day so has to be prepared for any eventuality.
Overall, the castle now brings in around £9m a year in revenue. 'We look to make an operating bottom line of around £0.5m after non-recurring maintenance,' says Richman, 'and after that we build up money to do the next big thing. My ob is to make sure we have the reserves to do what the trustees decide to do next.' A new nine-year plan for castle work and maintenance has been put in place, which includes £400,000 a year to repair the curtain walls around the castle itself. 'That's a once-in-a-generation job because of the nature of the stonework,' he says.
History versus commerce
All investments have to be approved by the foundation's board of trustees for non-charitable activities, and there is a constant tension between preserving and promoting the castle's rich history and maximising its commercial potential. 'The history of the castle is hugely important, but a lot of visitors come back many times, so we have to offer more and keep the offer refreshed,' says Richman. 'We base the entrance fee [of £24] on it being good value for a day out and excellent value if you return within 12 months.' Each project has to have a strong business case behind it, he adds. 'We get feedback from the trustees early on to gauge their appetite for projects. So with something like the new visitors' entrance, we have to convince them that it will pay back the investment.'
The fight between head and heart is not new to Richman either. After leaving United Racecourse he joined the English National Ballet (ENB) as its finance director, at a difficult time for the company. 'It was running a deficit, which I was working with the CEO to eliminate. But then the ENB's home, the London Coliseum, closed for refurbishment and we moved temporarily to the Hammersmith Apollo. Our Christmas season at the Coliseum effectively supported our work for the rest of the year and » when our move to the Apollo didn't work, we had to apply for a bailout from the Arts Council and went into special measures.'
The company, he says, could easily have gone under: 'Technically, it was expendable.' But the Arts Council agreed to a review of its operating model, which Richman carried out with the help of several prominent businesspeople who happened to be trustees. 'It was very stressful because we had to balance artistic and commercial considerations. How many dancers should we have? How big should the orchestra be? But we traded through it, produced a strong touring model and built up strong reserves. We became a very strong company.'
His decision to train as an ACCA, made in his early 20s while he was working for a diving company in Yarmouth, has certainly paid off: 'I was having fun but I decided I needed to knuckle down, so began studying to be an accountant. The ACCA Qualification has opened up so many opportunities. I've been lucky in my career – I've moved into areas where I find real enjoyment.'
Which begs the question: how on earth do you follow working somewhere like this? 'I've worked in such wonderful places and interesting jobs,' he says. 'If I move, it would have to be to the right one.' An office with a view, perhaps, is optional.
Liz Fisher, journalist
"We spend £200,000 a year on non-recurring maintenance alone. We could easily spend our resources 10 times over"