Sub-Saharan Africa is taking much-needed steps to improve its corporate governance in order to boost growth – and professional accountants have a key role to play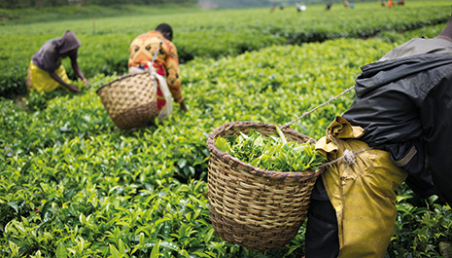 This article was first published in the June 2016 international edition of Accounting and Business magazine.
The need for sub-Saharan Africa to improve its corporate governance, promoting sustainable development in a region that still trails the rest of the world in many poverty metrics, has been a key theme of accounting conferences. And new initiatives reflecting this understanding have been making progress in both East and West Africa.
East Africa is certainly moving ahead in business terms, with the World Bank forecasting powerhouse Kenya's economy to grow by 6% in 2015. Politically stable Ethiopia is forecast to grow by 9.5% in 2015; Uganda 5.5%; Tanzania 7.2%; and Rwanda 7%. These are big numbers and for this growth to be maintained, the expanding companies generating this wealth need to be well run. This is the view of the Africa Corporate Governance Programme, which in September 2015 launched an East Africa chapter. It is run by the World Bank's International Finance Corporation (IFC), and financed by the Swiss government.
The programme's East Africa chapter is tasked with improving the performance of businesses in Kenya, Uganda, Rwanda and Tanzania by helping them adopt good corporate governance practice. Mohammed Nyaoga, the Central Bank of Kenya chairman, explained the chapter's advice would help companies access capital and lower regulatory costs. He says: 'Business leaders need to move beyond setting corporate governance rules and toward adopting behaviours that embed good practice into corporate values and everyday business decisions.' Openness is key here, he said, and programme specialists will coach businesses on becoming more transparent and accountable to investors and commercial partners.
Cheikh Oumar Seydi, the IFC's director for eastern and southern Africa, says he hopes such reforms would underpin development work that his organisation undertakes across a wide range of sectors: 'The IFC is supporting businesses in critical sectors for African development, including power, agribusiness and financial services. By further supporting good corporate governance practices within African companies, we expect them to carry lower financial and non-financial risk, and generate higher returns for shareholders.'
The programme, he argues, would 'equip businesses in East Africa with the tools they need to attract and retain investment and operate more efficiently, which in turn, will boost economic growth in the region'.
The initiative is not the first in East Africa to promote good corporate governance, however. Japheth Katto FCCA, a former CEO of Uganda's Capital Markets Authority (CMA) and a Commonwealth Association for Corporate Governance certified trainer, stresses how in Uganda, the 2012 Companies Act has provisions encouraging good corporate governance: 'The provisions are mandatory for public companies but voluntary for private companies. Also, in Kenya, the CMA has been developing a comprehensive code of good practice for listed companies.'
What's more, the East African Community, an international organisation uniting Burundi, Kenya, Rwanda, Tanzania and Uganda, has issued a corporate governance directive for capital markets intermediaries, while one for listed companies has been drafted.
Such initiatives have also borne fruit elsewhere on the continent. The IFC has already teamed up with ACCA to boost corporate governance in West Africa, through a three-year-long partnership in Ghana. The organisations held a conference in February 2015 in the Ghanaian capital Accra to raise awareness of the value and importance of good corporate governance. The event, 'Corporate Governance: A Catalyst for Ghana's Economic Development', involved more than 100 regulators, policymakers, accounting profession and business leaders discussing barriers to progress and what good practice Ghanaian companies need to embed effective corporate governance.
Despite this progress, Katto says further work is needed regarding corporate governance in African small-and-medium-sized enterprises (SMEs) and family-owned companies: 'Some family-owned private companies are larger than listed ones but with very poor corporate governance.' He adds that corporate governance concerns should be extended to the public sector, which is 'the area that needs the greatest attention…particularly state agencies and parastatals'.
Jamil Ampomah, ACCA director – sub-Saharan Africa, is certainly clear that good corporate governance is a boon, wherever it takes root: 'Companies with good corporate governance tend to run their businesses more effectively, while balancing entrepreneurship and prudence. This helps them create the market confidence and enhance the business integrity that is essential in gaining access to long-term investment,' he stresses.
Compliance challenge
Accountants can play a key role in improving corporate governance, he says, especially when, as often happens in sub-Saharan Africa, many become board members, executive directors, even CEOs and CFOs. 'They are therefore directly responsible for setting the strategic aims, putting them into effect or supervising the process, and communicating with stakeholders,' says Ampomah.
He also stresses the value of accountants as external partners in improving corporate governance – as independent auditors evaluating the integrity of financial information, or as advisers helping companies improve corporate governance based on their experience of risk management and internal controls.
'Achieving good governance is one of the region's greatest challenges and will determine the success of new programmes and projects to promote the region's development,' he says, noting this was a key finding from ACCA research into African corporate governance.
One key problem he highlights is 'the lack of obligation or enforcement to comply with codes'. He adds: 'Such attitudes and behaviours present the greatest barriers to improving practice in the African region. As a result, there is an absence of effective corporate governance practices in a significant number of organisations.'
How should this be fixed? Drawing on ACCA research conclusions, Ampomah has a clear checklist of reforms:
Organisations should ensure that there is a common understanding of governance and ethical standards among governing body members and senior executives.
Codes of governance or frameworks that are appropriate and relevant should be put in place to support innovation and improvement in practice. These should be adaptable to each organisation.
Governing body members and employees should be clear about roles and responsibilities for strategic and operational governance and ethical practices.
Accountants, particularly those serving on audit committees, should make sure decisions are transparent and decision makers are held to account.
The role of accountants in implementing standards and ensuring compliance should be given greater prominence by making their contribution explicit to professional accountants and other relevant individuals across sectors and organisations.
Keith Nuthall, journalist
"Some family-owned private companies are larger than listed ones but with very poor corporate governance"