Football body UEFA is ready to host the most lucrative European Championship in history. We take a look at the record finances behind this summer's extravaganza in France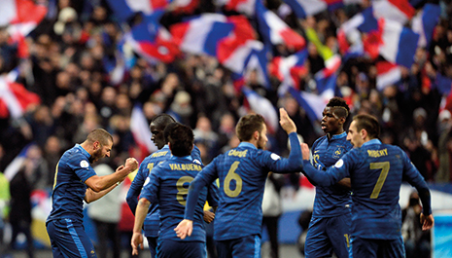 This article was first published in the June 2016 international edition of Accounting and Business magazine.
While UEFA may be enduring possibly the worst crisis since its creation in 1954, it is very much business as usual for its prestigious 2016 Euro Championship in France, which kicks off this month.
As we went to press, UEFA president Michel Platini resigned from European football's governing body, having failed to overturn a six-year suspension, following the emergence of a contentious £1.35m payment he received from disgraced former Fifa president Sepp Blatter, without any evidence of a written contract relating to the payment. The ban was reduced to four years last month by a Court of Arbitration for Sport.
The 15th Euro tournament is set to be the most lucrative Euro competition ever, worth €1.9bn. Before his fall from grace, Platini oversaw the introduction of a new competition format that will see 24 teams taking part in the final tournament instead of 16, which has been the case since 1996.
The 24 teams will play 51 matches – 20 more games than the previous format – making it the biggest European event in 2016. The expanded competition will produce 65% more matches and an 80% increase in tickets compared to the 16-team format.
Euro 2016 will generate revenues through three main sources: sponsorship, ticketing and hospitality, and TV rights. Sponsorship revenue alone is expected to grow more than 30%. UEFA says it will earn €400m from its 10 sponsors in 2016, compared with the €300m generated from Euro 2012.
UEFA has 10 global sponsorship partners in place, with Adidas, Carlsberg, Coca-Cola, Continental, Hisense, Hyundai/Kia, McDonald's, Orange, SOCAR and Turkish Airlines all signed up. In addition, six national partners with sponsorship rights limited to the host country are Crédit Agricole, FDJ-La Française des Jeux, Abritel/HomeAway, La Poste, PROMAN and SNCF.
Centralised sales model
UEFA will also earn new revenue from these sponsors under a recently centralised sales model, which includes rights to qualifier matches. UEFA previously sold global sponsorship rights to the Euros and other national team competitions separately. Sponsorship rights to qualifying matches were sold by UEFA's 53 national federations on an individual basis.
Under the new model, UEFA has sold global sponsorship rights covering a range of properties over four years from 2014 to 2018. The package includes rights covering the qualifying matches for Euro 2016, the Euro 2016 tournament itself, the Under-21 Euro 2015 competition, Women's Euro 2017, the European Futsal Championship 2014 and the European qualifying matches for the 2018 Fifa World Cup. Carlsberg, for example, is understood to be paying more than €60m across four years – a significant increase on its previous deal.
Guy-Laurent Epstein, marketing director of UEFA Events, says the jump in revenue is fully justified.
'First of all, we bring a lot of additional value for our partners with the integration of the qualifying matches, which is valued quite significantly by the market,' he says. 'Also, 2016 will be the first time in 20 years that the tournament will be hosted in a "big five" market [England, France, Germany, Italy and Spain], which makes it a more premium-valued event for commercial partners.
'And the competition will grow from 16 teams to 24 teams, which means the competition becomes interesting and relevant in eight additional markets. This is particularly important when sponsors come to sell-in their programmes to their local subsidiaries.
'It is a very compelling offer for any partners that want to join the programme and so the large increase in the price is justifiable.
With the boost in ticketing capacity from the additional games, UEFA states it will generate €500m from ticketing and hospitality. The Euro 2016 hospitality programme is made up of two products: the Platinum Experience (box) and the Gold Experience (lounge). Sales began in 2014 and at the outset there were 100,000 packages available costing upwards of €780 each.
The organisers selected three prestigious partners to deliver the biggest hospitality programme ever implemented in France. Joël Robuchon, the chef with the most Michelin stars in the world, will be the tournament's culinary director; Hédiard is confirmed as the official caterer for the tournament and Austrian catering company DO & CO will be in charge of operations. While sales have been described as positive, at the time of writing neither package has sold out.
UEFA will also generate €1bn from TV rights. The matches will be broadcast live in more than 230 territories around the world and industry experts estimate 150 million spectators will follow each game live. In 2012, 120 broadcasters in 200 territories broadcast games, producing an average of 150 million TV viewers per match.
It is estimated that 2.5 million fans will actually attend matches. Of those, 1.5 million will be foreign visitors, predominantly from Germany and England. Overseas fans are expected to spend €1bn over the course of the tournament.
In comparison, 1.4 million fans attended the tournament in 2012, hosted by Poland and Ukraine. According to a spokesman for the Ministry of Sport and Tourism in Poland, during Euro 2012, Poland was visited by more than 677,000 foreign tourists and fans from 123 countries. Of those, 296,000 attended matches.
According to the Centre de Droit et d'Économie du Sport (CDES), the tournament will contribute €2.8bn to the French economy. CDES believes that this contribution could increase if French companies make full use of the business opportunities and profile generated by the event.
Catalyst for modernisation
As is the way at major sporting events, Euro 2016 has been the catalyst for a massive modernisation programme that has allowed France to develop a new generation of sports facilities.
An ambitious construction and renovation programme for the 10 host stadiums has been under way. New stadiums have been built in Lille, Nice, Bordeaux and Lyon, while the stadiums in Marseille, Paris, Saint-Etienne, Lens and Toulouse have undergone major renovation. The Stade de France underwent minor updates.
The construction and renovation project cost €1.6bn, with the money coming from a number of sources – mainly from local authorities but also from national government and clubs.
To put the reconstruction into context, before it got under way, only three stadiums with a capacity of more than 30,000 had been built in France since 1945: the Parc des Princes in Paris (1972), La Beaujoire in Nantes (1984) and the Stade de France in Saint-Denis (1998).
UEFA and the French Football Federation (FFF) have set up a company, EURO 2016 SAS, delegating responsibility for the operational organisation of the tournament under a single directorate. EURO 2016 SAS is 95% owned by UEFA and 5% by the French Football Federation.
The question of providing and paying for security at fan zones, where thousands of fans from France and other competing nations will gather in relatively confined spaces, has become one of the main items on the agenda for organisers due to the perceived high threat from terrorism. In April, sports minister Patrick Kanner announced that the budget had doubled from €12m to €24m, to be shared between the host cities, the government and UEFA. This will include bringing in 10,000 members of the military.
Gael Perdriau, the mayor of Saint-Etienne, which will host three group matches and one tie in the last 16, says he has set aside 'around €2m to spend on security for Euro 2016'. Just over half of that will go on CCTV with the rest going towards paying for personnel to staff the city's fan zone and the 42,000-capacity Stade Geoffroy-Guichard.
'We must find the right balance between what should be a party and matters of security that must not be taken lightly,' Perdriau insists.
Alex Miller, journalist
Euro 2016 stadiums
| Stadium | Capacity | City |
| --- | --- | --- |
| Stade de France | 80,000 | Paris |
| Stade Vélodrome | 67,000 | Marseille |
| Stade de Lyon | 59,000 | Lyon |
| Stade Pierre Mauroy | 50,000 | Lille |
| Parc des Princes | 48,000 | Paris |
| Stade de Bordeaux | 42,000 | Bordeaux |
| Stade Geoffroy-Guichard | 42,000 | Saint-Etienne |
| Stade de Nice | 36,000 | Nice |
| Stade Bollaert-Delelis | 38,000 | Lens |
| Stadium de Toulouse | 33,000 | Toulouse |
"We must find the right balance between what should be a party and matters of security that must not be taken lightly"