For Dato' Vimmy Yap FCCA, founder and managing director of Six Consulting, keeping one eye on future regulatory developments such as GST has been a key to her success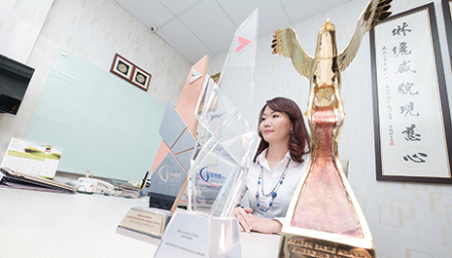 This article was first published in the July/August 2016 Malaysia edition of Accounting and Business magazine.
Dato' Vimmy Yap FCCA is an accountant with an entrepreneurial streak. However, her motivation for success is not so much to maximise profits for her consultancy but to add value to her clients' business.
'For me, an accountant and entrepreneur should not be separated. If we don't have a business mind, we would not be able to advise our clients. If I can be an accountant and entrepreneur at the same time, that will add value to my clients,' says Yap, the founder and managing director of Six Consulting and its subsidiary GST Vintage. 'If you don't create value for your clients I don't think you will be able to show what's the difference between accountant A and accountant B.'
That penchant for business saw Yap set up her own accountancy firm in 2003, shortly after she had attained her ACCA Qualification and become a member of the Malaysian Institute of Accountants (MIA). In a continual effort to change and keep up with the latest business trends, Yap subsequently restructured the business and rebranded it as Six Consulting, a professional consulting firm, based in the Klang Valley.
Yap, who has been servicing small and medium-sized enterprises (SMEs) since she started her own business, believes that both the public and the business world often have a misconception of accountants.
'They think an accountant is someone who just handles their past financial records,' she says. 'They often don't see any value in accountants other than reporting and compliance. Yes, we do compliance and reporting, but after that I will analyse the financial statements.
'From there, I will guide and advise them on what they should do to improve their business operations moving forward. If you keep on making the same mistakes, it will eventually affect your business. So this is how I, as an accountant and an entrepreneur, can create value for my clients.'
A common problem, she says, is that many SMEs owners think that business planning in terms of getting professional help is for the big organisations. 'I often have to tell them that this is not the case,' she says. 'I tell them: "You are small but you have the passion to make your business a successful one, so you should get us in to advise you on the business performance and accounting side."'
Yap has taken great satisfaction in seeing the growth of her SME clients over the years. 'Many of them have expanded from a small operation into bigger more successful entities,' she says. 'This is certainly a good thing and I'm very happy.'
She cites the example of a client who was grateful that Yap advised them to incorporate their business into a private limited company and secure their brand name. They subsequently found out that a competitor wanted to use the same brand name to incorporate a private company but could not because her client had already taken it.
GST foresight
Yap has also established a reputation as a goods and services tax (GST) specialist. She had the foresight to prepare years ahead of the implementation of the consumption tax which came into force in April 2015. As far back as 2007, Yap snapped up the internet domain name 'gst.com.my', which some years later she used as the website for her GST consultancy business, GST Vintage. Many people assumed that it was the Royal » Malaysian Customs Department's website: 'We receive a lot of calls on GST matters and its implementation and have got much GST-related business through this website,' Yap chuckles.
Yap had been carrying out research and compiling case studies on the GST system since 2006 and started the first implementation case for a client in 2010. She was among the first batch of MIA members who were certified after attending the GST agent course conducted by the Royal Malaysian Customs Department in 2012.
GST is relatively new in Malaysia and after the prime minister announced the roll-out date in late 2013, Yap realised that she needed to create a separate team to handle implementation. This led to her setting up GST Vintage as a consulting firm that provides GST solutions pre- and post-implementation.
Yap discovered that many accountancy firms or consultancies did not want or were unable to undertake GST implementation work as the timeframe given by the government was so short – around 17 months. 'For them to start picking up on GST, it may take half a year or maybe more before they can even think of doing the implementation. The time given for the GST rollout was very tight,' she explains.
However, Yap's early preparation paid handsome dividends as GST Vintage received a large number of requests from businesses, including large and listed ones, to undertake GST implementation. 'We were fortunate because we started preparing for GST much earlier,' she says. 'We got ourselves ready even before the prime minister's announcement.'
Yap's willingness to take up new challenges stems from her philosophy that 'change is the key to success'. For example, she makes a great deal of effort to change business owners' perceptions that accountants can only help them in the area of compliance. 'By changing their perception, we help them realise that accountants do more than just that and that they can bring extra value to the clients,' she says, adding that businesses not only need to embrace change; they should also look at how they can initiate and lead change in their respective markets or spheres of influence.
Credible consultant
Another area which Yap had to grapple with in the early years of her business was the challenge of proving herself as a credible female business consultant in the male-dominated SME sector.
'I'll be honest and say it was really challenging for me in the early years,' she admits. 'Firstly, I was young – in my mid-20s – and secondly, I was female.'
She remembers a number of SME owners who, when they first met her, were sceptical about whether she could help them in their business. However, in most cases she managed to win them over with her professionalism, confidence and expertise.
Yap notes that the situation has changed for the better in the intervening years. 'Yes, it has improved and I don't face this problem anymore. I think business owners are more open to the fact that women consultants can add value to their businesses,' she adds.
She is also appreciative of the fact that the ACCA Qualification has helped her make a mark in the business sector. 'I am proud to be an ACCA member and the Qualification has definitely helped me in my career,' she says.
'ACCA prepares you for the real working environment; it is not only theory-based. That's why ACCA members are very strong on analysis. We can analyse business performance by looking at the figures and numbers and we can also come out with our own solutions,' she adds.
For Yap, accountancy and ACCA are a perfect fit for her ambitions. 'I like numbers and I like analysis. I had the ambition to be an accountant since I was in school – and I never wavered from this goal.
'For me, accounting knowledge is very important if you want to analyse business performance and become an entrepreneur,' says Yap, who also encourages her staff to aspire to achieve the ACCA Qualification. This ambition has been cemented by both Six Consulting and GST Vintage receiving ACCA Approved Employer status – a move instigated after an ACCA representative introduced the Qualification to Yap's staff.
'She said that even though we are small, we can seek to become an ACCA Approved Employer,' Yap recalls. 'I believe ACCA saw that our training is good and relevant for our staff, and that's how we obtained that status two years ago.'
At a personal level, Yap's entrepreneurial zest has earned her a number of accolades in recent years. For two years running, in 2014 and 2015, she won the SME Association of Malaysia's SME Entrepreneur Women's Award. She was also granted the prestigious Datoship title from the Sultan of Pahang last year.
Away from the office, Yap spends quality time with her two daughters, aged 10 and 11. To release the stress resulting from her busy work schedule, she also spends time listening to music and reading books.
MK Lee, journalist
"We got ourselves ready for GST even before the prime minister's announcement"