Beat the drum for your professional organisation, says incoming ACCA president Brian McEnery, because ACCA offers a real opportunity in life to everyone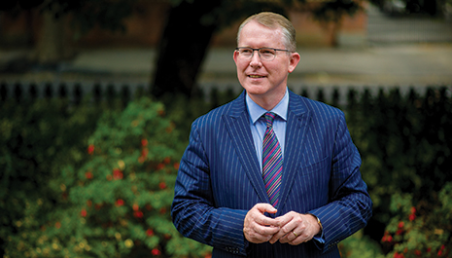 This article was first published in the October 2016 international edition of Accounting and Business magazine.
My first experience of advocacy came very early in my life and from a source very close to home. As a child, I was lucky enough to see my brother, who was four years older, working his way through the ACCA Qualification programme. Watching him, I could see the benefits of the syllabus. In fact, it was how my passion for business was first ignited.
That is why I want to spend my year as ACCA president inspiring as many of you as possible into being advocates. The day I became an ACCA member was one of the biggest days of my life, and I owe all this to seeing someone in my life benefiting from ACCA before I did.
ACCA's open access is an incredibly valuable attribute, but it's not enough for us just to open the doors to everyone; we also need to go out and welcome people in!
The world is demanding more from professional accountants than it ever has before. The role has undergone a complete transformation over the past decade, with finance professionals going on to become business leaders, trusted expert counsel and key strategic advisers.
But with this metamorphosis comes a requirement for finance professionals to equip themselves with a whole new set of skills. And that is why it is so exciting that this month sees the ACCA Qualification updated to ensure that it continues to meet the new strategic challenges that are being brought about by the 21st century's disruptive economy.
Young people come in for a lot of criticism. There's a phrase in Irish – 'mol an óige agus tiocfaidh sí', which, for those of you who aren't fluent in Gaelic, translates as 'praise the young and they will thrive'. I believe that wholeheartedly.
Many young people just need to be given an opportunity to succeed and they will take it. The opportunity I was given was ACCA, and by spreading the word, we can offer that same opportunity to thousands more young people around the world.
There are lots of different ways to be an advocate. If you want to get involved, I'd urge you to make contact with your local ACCA office, where the staff will help you get started.
As for me, I have been a Council member since 2006. It's an amazing experience – one that feels like being a non-executive director for a multinational company.
It is an immense privilege to be able to do this work for ACCA. After spending a decade on Council I have learned so much – above all to be open-minded and to work as part of a team. This is the approach I am going to take during my year as president: to be your representative, your advocate and a mentor to our next generation of ACCA-qualified professional accountants. It's a daunting task, but I hope I do you all proud.
Brian McEnery is a partner specialising in corporate restructuring and healthcare consulting at BDO Ireland
"Many young people just need to be given an opportunity to succeed and they will take it"