It's wrong to think of networking as a short-term, event-based exercise: in an uncertain world, getting it right might just be the key to your next big opportunity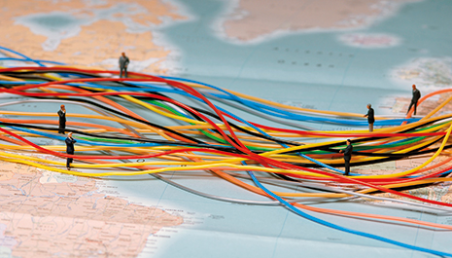 This article was first published in the October 2016 China edition of Accounting and Business magazine.
As in so many other industries, success in accountancy is as much about who you know as what you know. Taking the old adage one step further, however, Benjamin Loh, a Singapore-based executive speech trainer and coach, maintains that when it comes to networking, 'Connections made are not nearly as important as connections nurtured.' In other words, simply amassing business cards won't do.
Most people now accept that this kind of social strategy is something we should be doing, but few of us are confident when it comes to the dos and don'ts of forging new contacts. Networking is much more than simply a stepping stone to that next job or a means of populating a sparse Rolodex: played right, it can be a means to new friends, business referrals and, above all, to support from accountancy professionals navigating a role in the throes of change.
If the term brings to mind schmoozing and small talk it's time to rethink your definition of networking, says Loh. 'I think networking over the years has got something of a bad rep,' he explains. 'People tend to think of it as something transactional, short term and event-based. For me, the opposite is true: it should be long term, mutually beneficial and contextual – networking can happen just about anywhere!'
Jeremy Han, business strategy coach and director of corporate strategy at Adam Khoo Learning Technologies in Singapore, echoes Loh.
'Some people expect immediate results, as if networking is a fishing session. They size the person up, assess what opportunity they can get from him or her, and ask themselves whether they should waste 10 minutes talking to that person,' he observes.
So the experts are in agreement: a short-sighted approach of this nature is worthless; rather, networking is about creating trust. In Hong Kong, Stanley Kong, executive director of the city's Business Network International chapter, is clear: 'Most people confuse networking with selling to strangers. But to do so isn't just unproductive, it's rude. A better approach is to establish how you can help: ask "What do other people need?" Networking is about investing in long-term, meaningful relationships.' Founded by Ivan Misner in 1985, the paid networking organisation BNI now has upwards of 200,000 members in more than 70 countries, including 35 chapters in Hong Kong alone.
Why networking matters
Recent years have seen the role of accountancy professionals, and CFOs in particular, undergo significant change. From shifts brought about by technology to trends in management structures, and even Asia Pacific's insatiable pursuit of entrepreneurship, the experience of today's accountants is markedly different from that of previous generations.
According to Jasmine Choi, member engagement manager at ACCA Hong Kong, 'The accountancy professional is evolving and accountants nowadays are required to look beyond the numbers. Communication and sharing with peer groups will help accountants better understand what is happening around the world so as to help them better equip themselves.' In Hong Kong, she facilitates networking for ACCA members via events including online and in-person seminars, annual conferences, lunches and study trips.
Over in Malaysia, meanwhile, Dato' Lock Peng Kuan, partner and co-leader, audit and assurance at Baker Tilly, observes similar shifts in the scope of finance executives: 'In today's business environment, accounting professionals need to also demonstrate that they bring more to an organisation than just their qualifications and technical skills.' A member of the ACCA Malaysia Advisory Committee, he maintains that within the field, soft skills such as networking cannot be overlooked.
'Accountants are generally being perceived as poor networkers. They have the qualifications and technical skill sets to support the growth of an organisation, but some have unfortunately neglected the importance of people skills,' he says. 'Networking is one of the most important social skills. It is not only essential to professionals in business development, but is also a valuable tool to those who are seeking to interact with peers in solving industry's issues of common interest. It helps you to rise above the competition and stay ahead with the changing professional standards and trends, through valuable connections made from the networking session.'
As Han explains, people skills can present a political advantage – the more wide-reaching they are the better. 'Good CFOs play a very strategic role,' he observes. 'They don't just make sure finances work internally, but externally too – for banks, creditors, shareholders. All these people are outside the company and so good relations are particularly important. And to achieve all this you need to network.'
When it comes to networking, Han urges professionals to think beyond conventional stakeholders. 'More and more, the world has become really uncertain; you don't know where the next opportunity might be. Traditionally we think networking must be in a certain channel – that depending on my particular industry I must only network at conferences or trade shows specific to my profession. But that's not really networking. We should be networking all the time – not just when we think that it's relevant. In today's uncertain and dynamic world, where globalisation and technology mean you really don't know who you are going to meet and where that next opportunity is going to come from, we need to cast our nets as wide as we can.'
Creating a personal brand
Ahead of that next networking session and before reaching for the business cards, experts advise consideration of what they call a 'personal brand'.
'Think of it as a spin-off of company branding,' says Han. 'You want to be known for one thing that really defines you, rather than a series of very general things.' Specifically, he cites the use of generic attributes such as 'hardworking' or 'reliable' as vague to the point of vapid, and best avoided. 'It's general – a million other people sound just like you. If you translate that to a company or business you simply don't stand out, which means your chances of making it in the marketplace are very low. You need to be known for something that makes you stand out from your peers.'
'We live in a very noisy world,' cautions Loh. 'From people's Facebook timelines to LinkedIn, everywhere we are inundated with marketing messages of all sorts. If you do not remain consistent, if you do not remain singular in your approach, you risk being lost in a vast sea of information.'
Promoting yourself
Of course, defining a personal brand is one thing; activating and promoting it is quite another. Online platforms such as LinkedIn and/or personal blogs could be part of the solution, as could contributing to professional journals. A more day-to-day means of marketing your brand is networking, which Loh describes as 'a subset of personal branding: networking is an activity and personal branding is a concept, a philosophy you need to embrace', he explains.
'If you master the art of personal branding – that is, the one or two things you want people who matter to know about you – you are able to be very consistent and very clear in your approach to networking.'
Frances Arnold, journalist
"Networking should be long term, mutually beneficial and contextual – it can happen just about anywhere!"