Casey Barnett FCCA was at Rio 2016 to coach Cambodia's Olympic wrestling hope. He describes how he juggles his sport with his day job of running a business school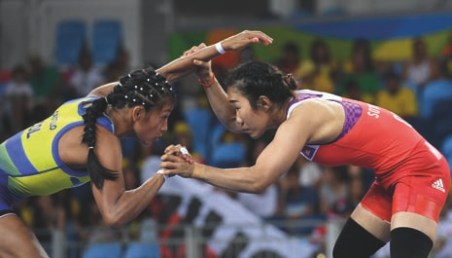 This article was first published in the October 2016 international edition of Accounting and Business magazine.
Q: What is your day job in Cambodia?
A: I am the founder and president of CamEd Business School, the leading business school in Cambodia and the country's only ACCA Platinum accredited tuition provider.
I came to Cambodia in 1999. Cambodia suffered a massive genocide from 1975 to 1979 during which educated people were specifically targeted for killing. War in Cambodia continued up to 1999 when the Khmer Rouge finally surrendered. Because of this legacy, there is a scarcity of technical skills. I founded CamEd to help build the next generation of accountants and finance professionals in Cambodia. It is now the source of most recruits for the Big Four and many international banks in the country.
Q: How and when did you become involved in wrestling?
A: I am an American and have wrestled since I was seven years old. Wrestling is not usually a casual sport so I wrestled only until age 21, as after university there were very few opportunities to take up the sport. But after arriving in Cambodia, I was pleased to learn that wrestling is a traditional sport here. I trained with the Cambodian team in my free time from 2007 to 2008. I participated in the Cambodian National Wrestling Championship in 2008, placing second in Greco-Roman wrestling and third in freestyle.
Through training and competition, I bonded with the Cambodian athletes. I sympathised with them as they faced low salaries (US$65 a month) and had no funds for equipment, not even shoes. When I became too busy to train, I assumed a role of supporting planning and fundraising. My role became official when I was elected vice president of the Cambodian Wrestling Federation.
Q: How do you juggle your work and wrestling?
A: I was a coach for the Cambodian Olympic team and focused on coordination and planning rather than daily training. I arranged for our Cambodian wrestlers to participate in regional competitions in Kazakhstan and Turkey to give them a chance to qualify for the Olympics. While our wrestlers were unable to earn a medal in the regional competitions, the international federation, United World Wrestling, was impressed with the performance of our 48kg woman freestyle wrestler Chov Sotheara and granted her a place at the Olympics in Rio. I arranged for her to train in South Korea and Vietnam, as those countries have a higher calibre of training partners.
In the final months of preparation, there were no surprises as Chov was a seasoned athlete and we were able to focus on drilling, sparring and maintaining nutrition to control her weight in the run-up to the Games.
Q: How is wrestling perceived as a sport in Cambodia?
A: Usually wrestling is only practised during traditional religious holidays in Cambodia. It is a traditional sport and the wrestlers don a traditional cloth and wrestle on sand. There is no tournament structure. The competitors simply step into the ring and whoever dares to challenge them will step into the ring as well.
There is a religious ceremony called 'Raising the spirit' in June when the wrestlers will be possessed by a local spirit before wrestling.
It is not widespread as a casual sport so the concept is still new to most Cambodians. I have been focused on wrestling for young people and over the past years I have sponsored an annual national youth wrestling tournament as well as wrestling workshops for young people. The focus on youth provides our national team with prospective wrestlers who can be identified for their potential and trained.
Q: Of the athletes you have worked with, who are you most proud of?
A: Dorn Sov. He was a gold medallist in the 2015 South-East Asian Championships and also the 2013 South-East Asian Games. I was his training partner and competitor from 2007 to 2009.
Q: Why is it important to participate in sport?
A: There are many great reasons for people to participate. First, sport develops social skills, the ability to both lead and cooperate with others. Second, it develops grit and persistence, which psychologists are increasingly identifying as a key indicator of success. Third, it provides exercise, which benefits both physical and mental wellbeing.
Q: How would you describe your experience in Rio 2016?
A: Rio 2016 was an incredible journey that embodied our years of effort, time, money, sweat, tears and anxiety all for just a couple minutes of competition. Leading up to the competition, there was one wrestler in my athlete's weight class who got injured days before the competition and had to withdraw. Our competitor from Vietnam ended up being unable to make weight just hours before the competition. In the end, my athlete only had one match, losing to a world-class wrestler from Colombia.
Q: What interesting activities has CamEd been involved in?
A: Women's sports are severely neglected in Cambodia and I am proud that over the years I have sponsored women's football, basketball and track. CamEd sponsors many charities and sports, including Cambodia's first-ever women's university football tournament. Our women's football team even got the attention of Japan, which sent a women's futsal team for a friendly match.
In addition to instruction, CamEd hosts annual forums on accounting and banking, sponsors business research and promotes accounting standards. CamEd works closely with the National Accounting Council of Cambodia in promoting International Financial Reporting Standards and IFRS for SMEs. As an adviser to the council I have participated in international forums such as the United Nations Conference on Trade and Development's accounting conference, which is held annually in Geneva.
Q: How do you see the future of wrestling in Cambodia?
A: There's a bright future for wrestling in Cambodia. Ten out of 57 medals won by Cambodia in the 2013 South-East Asian Games were from wrestling. This success helps support the popularity of wrestling in Cambodia. I believe wrestling will grow steadily. But it's a very difficult and intense sport, which hinders it from gaining widespread popularity.
Q: What are your top tips for getting into wrestling?
A: Don't be afraid to try wrestling! Wrestling is a sport to make friends. It is one of the few sports where you embrace your opponent. As a martial art, it has proven effective, with many wrestlers rising to the top ranks of the Ultimate Fighting Championship and other mixed martial arts organisations.
For parents, wrestling is a good martial art because it doesn't involve striking, which means less chance of injury and less chance of getting into trouble. However, wrestling is also the most physically demanding sport. Most wrestlers start in school wrestling programmes. For adults, it's hard to find a wrestling school, but more and more mixed martial arts schools are including wrestling classes.
Interview by Monique McKenzie, ACCA
"The competitors simply step into the ring and whoever dares to challenge them will step into the ring as well"