Having joined a new international network, RSM Ireland will be playing to its strengths at home and abroad, as managing partner John Glennon FCCA explains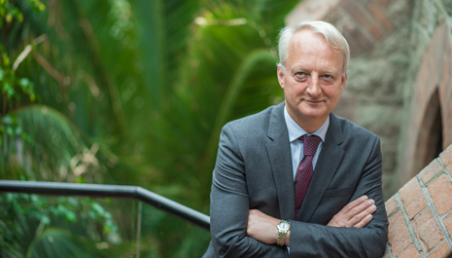 This article was first published in the October 2016 Ireland edition of Accounting and Business magazine.
Because Ireland is an outward-facing economy, it needs an accountancy and advisory sector with an equally international outlook. While the significant role of the Big Four as players in the Irish economy is well documented, the internationalisation of the mid-tier sector has also gathered pace in recent years. In May this year, Baker Tilly Ryan Glennon, Ireland's eighth largest accountancy firm, switched networks by officially joining RSM, the sixth largest provider of audit, tax and consulting services in the world, changing its name to RSM Ireland in the process.
'We were very happy members of Baker Tilly International, and had built up a lot of friends within the network through the 10 years we invested in it,' the firm's managing partner John Glennon FCCA says. 'However, Ireland is unique in Europe in terms of being a globalised economy, and we felt that the move to RSM was the right one to respond to these challenges and to build on our strengths as an organisation.'
Rapid rebrand
The rebrand was first mooted in October 2015, approved by the board in December and completed in May, a relatively short time frame that, Glennon says, was aided by a similar decision being made by RSM UK. 'We had a 10-year relationship with the UK firm, which had also been Baker Tilly,' he explains. A further incentive was the decision by all RSM member firms to rebrand globally as RSM. 'When we saw that firms were willing to commit to a single global brand and to a strategy to become the leading mid-market accounting provider, we felt it was a once-in-a-lifetime opportunity to join.'
The significance of the international dimension is evident in the Irish firm's client portfolio. Some 35% of fees come from foreign direct investment (FDI) clients, 50% of which are in the tech sector, in areas such as big data, cloud infrastructure and cyber security. Meanwhile an increasing number of its Irish clients are expanding and looking abroad for growth. Glennon feels the new network is well positioned to support both strands. 'We saw in the RSM network a marketplace position that reflected our international ambitions and those of our clients,' he says. 'The US and the UK RSM firms are the fifth and sixth largest in their territories respectively, while RSM is also the third largest firm in China.'
A number of internal considerations also contributed to the decision to join. 'One of the things that attracted us to RSM was the strategic intent around implementing common processes and systems through the network, which Ireland could be part of. We agreed a trilateral relationship between the US, UK and Irish firms and worked out detailed business plans across tax, audit and management consulting. We have also opened Irish desks in RSM offices in Chicago, New York and London.'
For RSM, the argument for bringing the Irish firm into the fold was, Glennon says, equally strong: 'We are the country's number eight accountancy firm and the only first-generation firm left in the top 10. We have a fairly laser focus in the mid-market, which is exactly in line with the RSM strategy.'
Specialist-led approach
It's a position that has been bolstered by the firm's move towards specialisation, which began with the merger of PKF Ryan Glennon and Baker Tilly O'Hare in 2007. 'We realised at the time that it was an essential move if we wanted to get bigger,' he says. 'It was quite a change to deliver and each partner had to choose a specialisation. Looking back, it was a good move. We didn't know that recession was going to hit and, when it did, the specialist-led approach certainly helped us.'
A focus on HR as part of this proved an important differentiator for the firm. 'Corporate recovery grew and there was a need for HR consulting as people began to downsize their businesses and deliver change. A purely accounting approach to solving problems – telling organisations they needed to cut costs without telling them how – wasn't going to work. There needed to be a lot of tactical change as organisations worked with smaller budgets, and we were able to provide that through our HR service.'
As part of the RSM network, the Irish firm's next step is sector specialisation. 'We're going to develop some ourselves organically in Ireland and leverage our international expertise for others,' Glennon says. 'RSM's purpose is to empower its clients to make confident decisions. As well as being rigorous and dynamic in the advice we give, we strive to be empathetic in understanding where the client is coming from.'
Having been through the rebrand experience, Glennon warns others considering a similar move that it is likely to be more rigorous and demanding than they might expect. 'As accountants, while in theory we understand the value of a brand, we are likely to require outside advice to execute it. You need to put the resources in in-house and to involve your whole team in the process. Most importantly, if you are going to launch a brand, and make brand promises, make sure you have the systems in place to deliver on them. What allowed us to do it so quickly is that we had the global resources.'
Shared journey
A native of Birr in Co. Offaly, Glennon joined a Big Four firm soon after graduating from NUI Galway. He followed this with a move to a mid-market ACCA firm, where he pursued the Qualification. 'It was fairly unique at the time to have an ACCA firm of its size in Ireland and, if I'm honest, I became an ACCA member because I wanted to feel part of the team.'
That commitment to ACCA continues to the present day. RSM Ireland currently has 12 ACCA members among its staff. One partner, George Maloney, was president of ACCA Ireland in 2000 and served on ACCA's Council between 2003 and 2006.
Consultancy and audit have formed key elements of Glennon's work portfolio over his career. His success in the former has, he says, 'always been driven by the idea that business performance is driven by people performance. Lots of businesses have really impressive strategies, but what really differentiates an organisation is how well it can execute a strategy. I've always enjoyed getting involved in assignments that help businesses achieve that in a better way. Recently, I worked with a state body that was trying to effect change. There was a financial aspect and a change management aspect to it, finance mixed with HR. I enjoy that kind of role.'
Glennon first took on the managing partner role in 2004, a development that, he says, may well reflect 'a frustrated entrepreneur. When I first became managing partner it was as a result of merger. I envisaged the role in terms of the power of recommendation, of bringing everyone along on a shared journey. Subsequent growth required a management structure to be put in place and RSM Ireland now has a chief executive officer and a chief operating officer, as well as a full internal management team with heads of department in marketing, finance and HR. Evolving a more corporate decision-making model was important for us as we grew, and the partners were very comfortable with that.'
The experience as a managing partner has also come to inform his approach to consultancy, he adds. 'The role of a managing partner often involves thinking about how you can achieve change in a non-hierarchical structure, where you need to persuade people of the strategy before you execute it. You achieve what you're aiming at by persuasion. We've learned over the years that making whatever stage of the journey you're on meaningful to the people in the business is vital to that.'
The audit sector has suffered a reputational battering as a result of the 2008 financial crisis. Glennon believes that the profession has moved a good distance in terms of restoring its reputation since then, largely as a result of the role accountants played in helping businesses recover from the recession. But he admits: 'I'm not sure we have fully addressed the expectation gap between the users of financial information and the reports that we give as auditors. It remains hard to explain to the man on the street how a set of audited accounts can subsequently have issues, and that auditors have done their job.'
Balancing trick
With headquarters in the Dublin suburb of Ranelagh, RSM Ireland also has branches in Birr, Co. Offaly, and Portlaoise, Co. Laois. It's a network that initially built on Glennon's own roots in the Midlands but which subsequently proved a canny business move. 'Pre-2007, we had a lot of clients in the Midlands, and we invested further in the region during the recession. We now have a number of nationally relevant clients there, and we're the largest globally represented firm in the Midlands. We believe there are prospects for the area to grow. If you look at recent statistics, it's starting to do well again.'
The direct connection with the Midlands also ties in with what Glennon says is the firm's philosophy of being 'glocal' – balancing the global and local. 'While 40% of our clients are involved in exporting, we also have smaller clients for whom local knowledge and presence is a greater priority. They are important to us and we have the resources available to help them as they grow.'
Having brought the firm from a standing start to number eight in Ireland, Glennon has no intention of resting on his laurels. Currently employing 130 people, the firm has ambitious plans to expand its workforce by 50% over next five years.
One of the most compelling parts of the rebrand has been the enthusiasm it has engendered among staff and younger personnel in particular. 'One of the things that surprised me was the huge level of excitement the move created internally. The prospect of working on global assignments and collaborating internationally was really appealing to all our staff and to our younger personnel in particular. All firms are competing for talent, and there's no doubt that creating an international dimension provided a new strength in terms of that.'
Donal Nugent, journalist
"RSM's purpose is to empower its clients to make confident decisions"